How to Take Portraits with Horses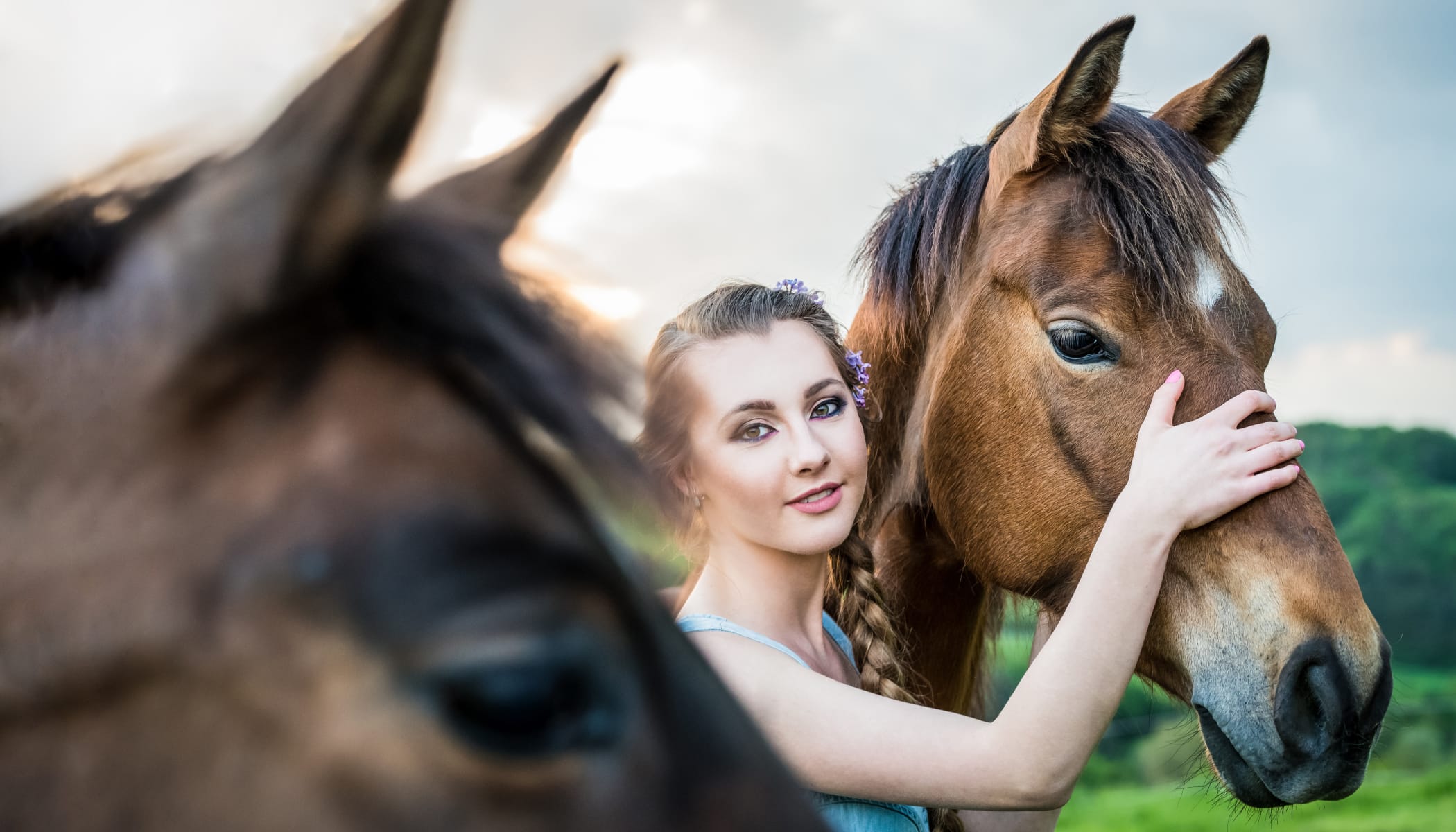 Portraits with horses are a great way to freshen up your portrait portfolio. If you're getting ready to do this type of photoshoot, here are some tips for you. It's not as easy as it looks. You'll need to watch the horse, the model, pay attention to the right poses, and work the camera all at the same time. All of this must be done quickly before the horse starts getting bored. After reading this article, you'll be prepared for your first equine portrait shoot and nothing will catch you by surprise. 
In one of my previous articles, I wrote about how to take pictures of horses. This time we'll look at combining portrait and equine photography. You can take pictures of a model with the horse, as well as children or entire families. It is also possible to include more than one horse in your shot. 
However, for the sake of this article, we will focus on the simplest option – one model and one horse. I say the word "simplest," but you might not find anything simple about even this most basic option for equine portrait photography.
This photoshoot is inherently more complicated than taking a portrait or a picture of a horse on its own. In this photoshoot, among other things, there are two subjects to keep an eye on. There isn't much room for compromise either because both the horse and the model have to look good. You are also working with a limited amount of time for the photoshoot during which the horse is willing to cooperate.
Preparing the horse
It's important that your horse is prepared for the photoshoot. This means it is clean, calm, and happy. I've written about preparing horses for photoshoots in more detail in the previously mentioned article about horse photography. If the horse is going to be photographed with its halter or full saddle, it is important these things look good. You don't want it wearing a ragged or muggy halter that it wears every day while grazing in the pasture. In my opinion, it's best to photograph the horse without any extra tack, though this may not be possible with every horse.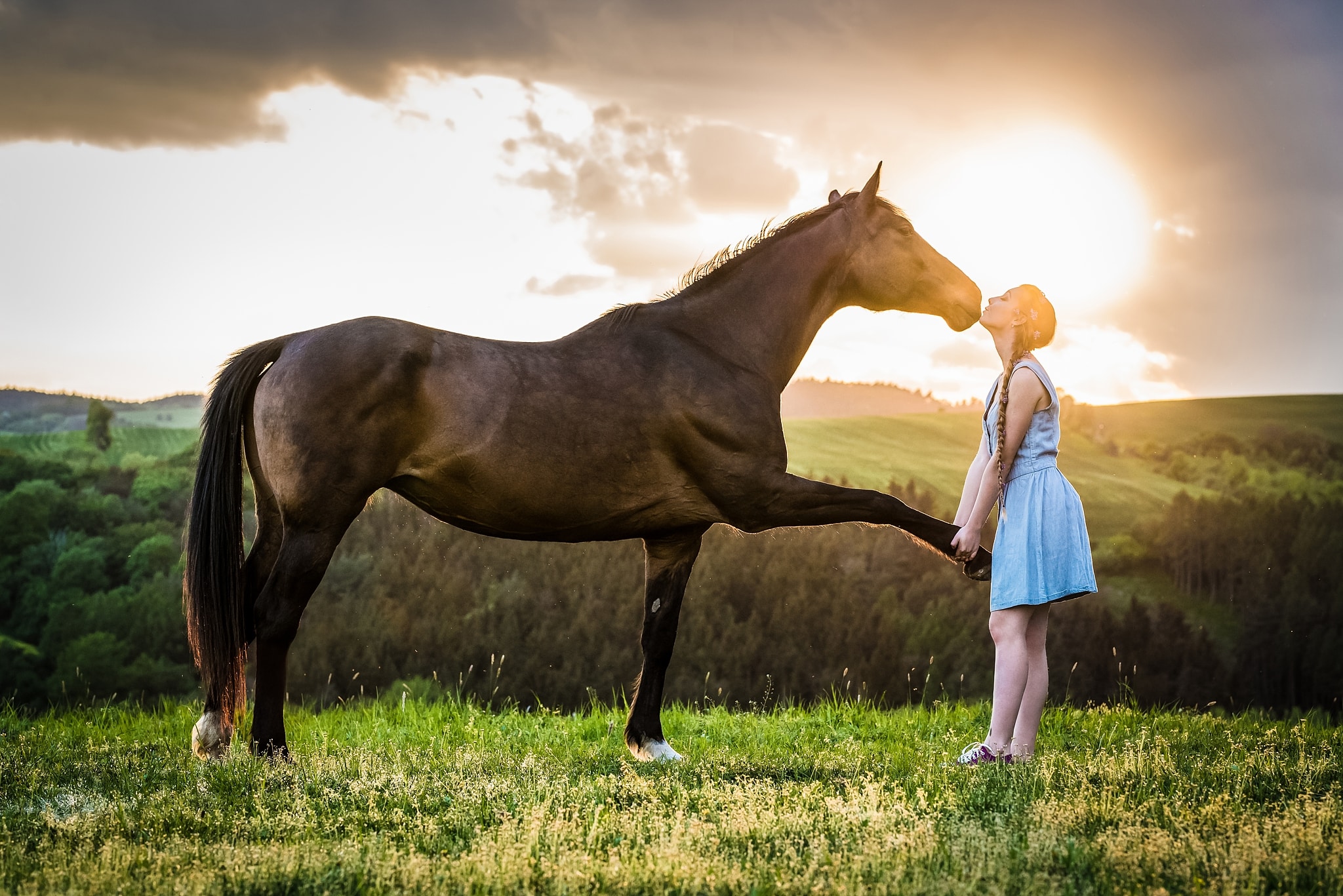 If the horse is used to having its picture taken, this will make your job a bit easier. This type of horse has some idea of what is expected and is willing to cooperate for some time, with the help of a few treats. If you're going to use a horse that isn't used to having its picture taken, don't be discouraged. It too will get the hang of it in time. 
As I explained in the previous article, having an assistant for this type of photoshoot is a must. You will have your hands full with the camera and can't constantly be running to reposition the horse or straighten your model's dress. With this type of photoshoot, there simply isn't enough time. The horse will only give you a limited amount of time and every minute is valuable. 
Choose and prepare your model 
As far as the photography style goes, it depends on the purpose of your photoshoot. Your style will vary depending on whether it is a specifically themed shoot involving a horse or a classic portrait with a horse. Of course, don't underestimate the importance of being prepared and work with a makeup artist to ensure your results are the best they can be. It's also important that the model is not afraid of the horse. If they are afraid, the horse will sense it and it will be obvious in the photo, making the entire photoshoot appear unnatural.
If possible, choose a model that has experience with horses. Your model should ideally be someone who does horseback riding. If your model is an experienced rider, then the photos on the horse will look much more natural than if you put someone on a horse that has only ridden a horse once or twice in her life. In any case, if this is your own project, I recommend going with the easier option and choosing a model that has experience with horses.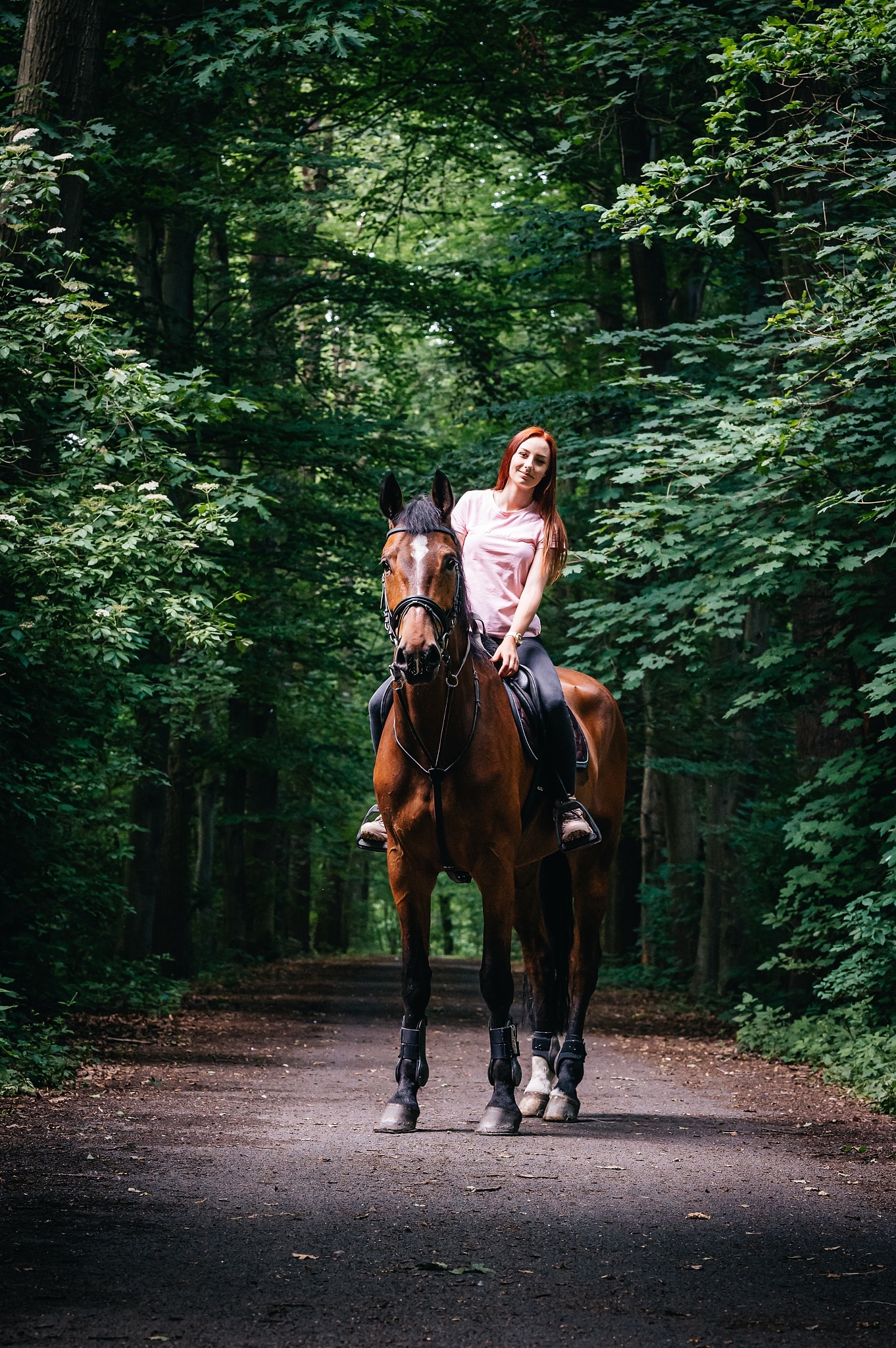 Focal length and aperture 
Due to lens distortion, I recommend working with a 50-200mm focal length on a full frame camera. However, this isn't set in stone and some photographers may prefer shorter focal lengths. 50mm and 85mm are my favorites for portraits with horses, though I sometimes do bring along my 70-200mm zoom lens. As for aperture, it depends on the purpose of your photoshoot. I prefer to have both the model's face and the horse's head sharp for this type of photography, so I most often use an f-number of 4-5.6.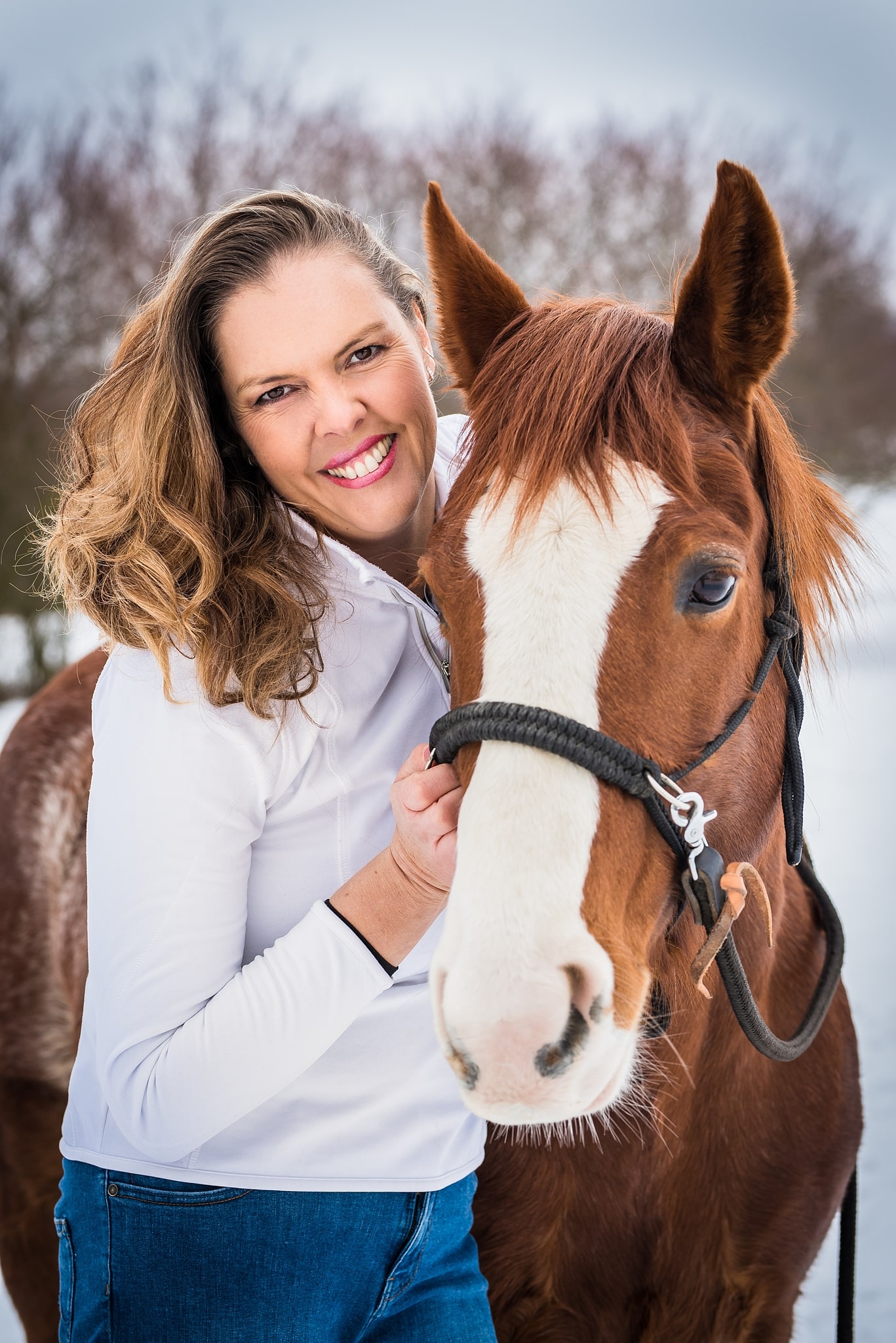 The course of the photoshoot and choosing the right poses 
Don't forget to make sure the horse's ears are up. In equine photography, the horse always looks better with its ears up rather than pointed back. The exception is, for instance, when a horse is grazing or the model kisses the horse, etc. Here are some ways to make sure your horse's ears are up.
Take advantage of the beginning of the photoshoot when you are most likely to have the horse's full attention. Sometimes calling out to the horse is enough to make sure its ears are up, sometimes rustling a bag, or making some other sound will grab its attention. Every photographer will find what works. As time goes on, the horse's attention may wander. Once these tricks stop working, you may need to resort to using your mobile phone to play pre-recorded horse sounds. 
The internet is full of videos with horse sounds so everyone will certainly find one that works for them and appeals to the specific horse. If none of the options work despite all your efforts and your horse's ears are pulled back like a donkey, there's a certain charm in capturing photos of a horse grazing.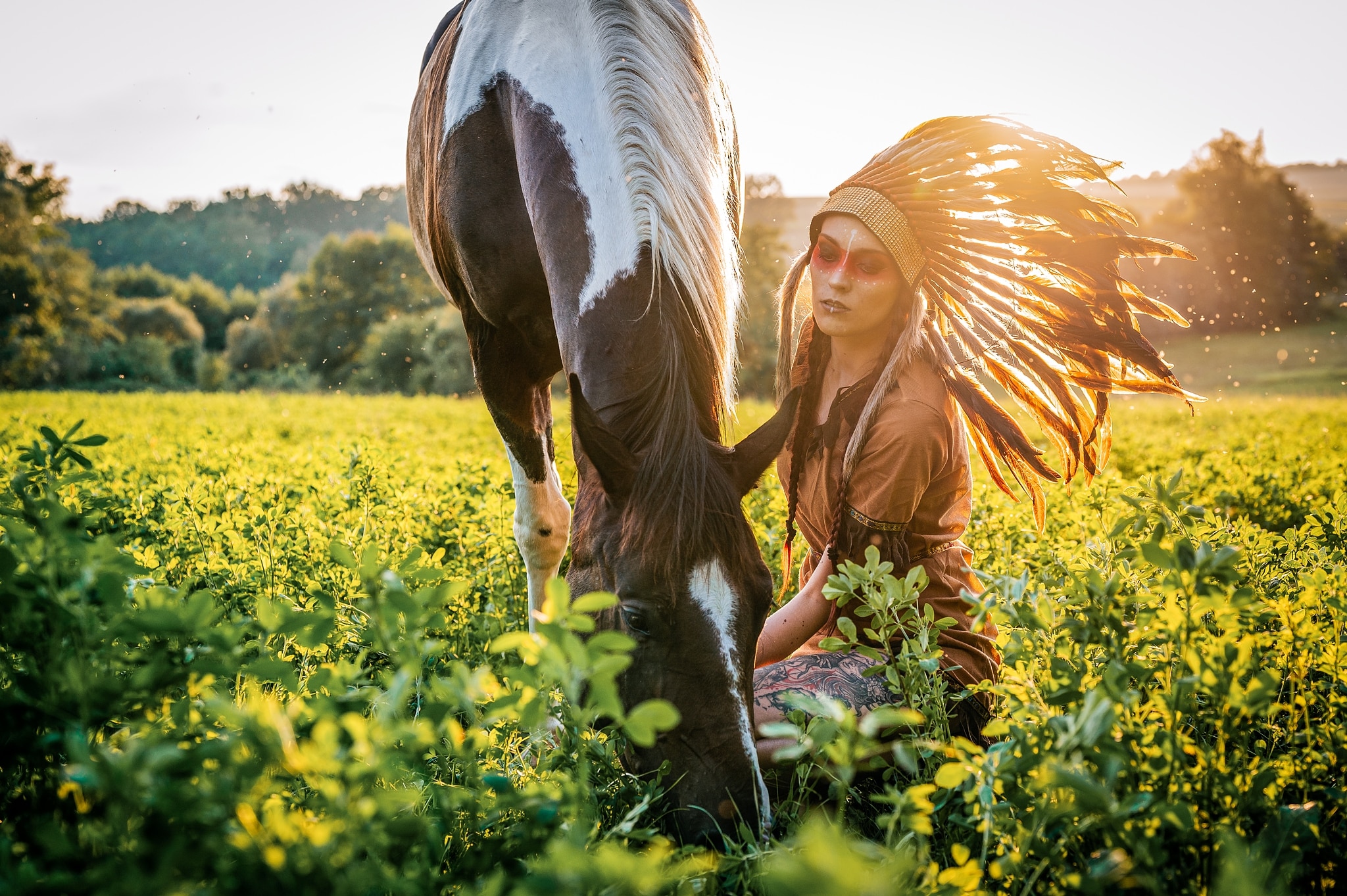 From the basic equine poses, I'd definitely include a few of the classic portrait poses – the model's face next to the horse's head, as well as the model sitting on the horse. You can get plenty more shots from these two basic poses by simply changing the angle or focal length. Don't be afraid to have your model use their hands and embrace the horse's head. If your model is not afraid, she'll have no problem adjusting the horse's head throughout the photoshoot as needed. If not, you can use your assistant for this.   
Your model seated on the horse can then lean in closer to the horse's face. If you are photographing the horse with its bridle or halter and lead, be sure to keep the lead loose. Both reins should be kept equally slack. Otherwise, it may give the impression that the horse is being restrained. If you have a horse that can do more than just stand still for a photo, expand your photoshoot by having the horse bow its head or lay down.