Organize Photos Easily With Zoner Photo Studio's Catalog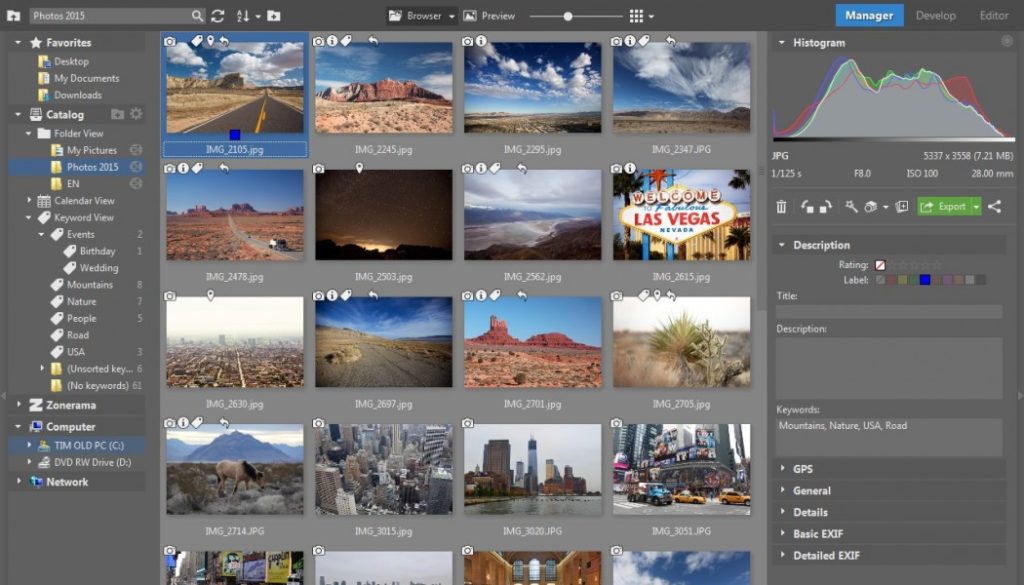 Real organization for your photos, and a quick way to find them? It's not just a dream! You only need the right tools.
And Zoner Photo Studio's Catalog has them. Learn to use it right, and your photo management will be easy.
Zoner Photo Studio works with your actual photo files on disk, which is one of its greatest strengths. Among its other strong points is the Catalog, which simplifies work with your photo collection. Once you learn how to work effectively with this "card catalog," you won't have to spend ages clicking your way down to your photos or waiting for the thumbnails for your large photo files to finally display.
What is the Catalog?
The Catalog is a "card catalog for your photos." It constantly monitors folders of your choice and stores information about the photos inside them. Then when you browse or search for photos in those folders, Zoner Photo Studio doesn't need to load in the photos themselves—it can quickly check the Catalog.
Photos are "cataloged" if they are in a cataloged folder—a folder that's been added to the Catalog. (Note that one folder is added for you automatically: the Windows "Pictures" folder.) Cataloging a folder also catalogs its subfolders—the folders inside it.
To browse the Catalog's pictures, use Zoner Photo Studio's left-hand panel—the Navigator.

The Catalog offers both a Folder View and three other ways to browse your photos: Calendar View, Keyword View, and Location View. You'll likely spend the most time working in Folder View. But the other views are great for searches and other organizing tasks.
Calendar View

lists pictures by the dates when they were taken, which can really help when you're seeking a specific photo but you only know its date.

Keyword View

is both a way to browse pictures by keywords and a way to keyword-tag your photos.

Location View

lists your GPS-tagged pictures by the places where they were taken—a great way to quickly find e.g. all the photos from one trip.

Fine Tuning Your Catalog
To add folders to the Catalog, click the "folder with a +" icon aligned with the word "Catalog" on the left. As mentioned above, your Pictures folder is added automatically, but you might want to add other folders—maybe even on different drives.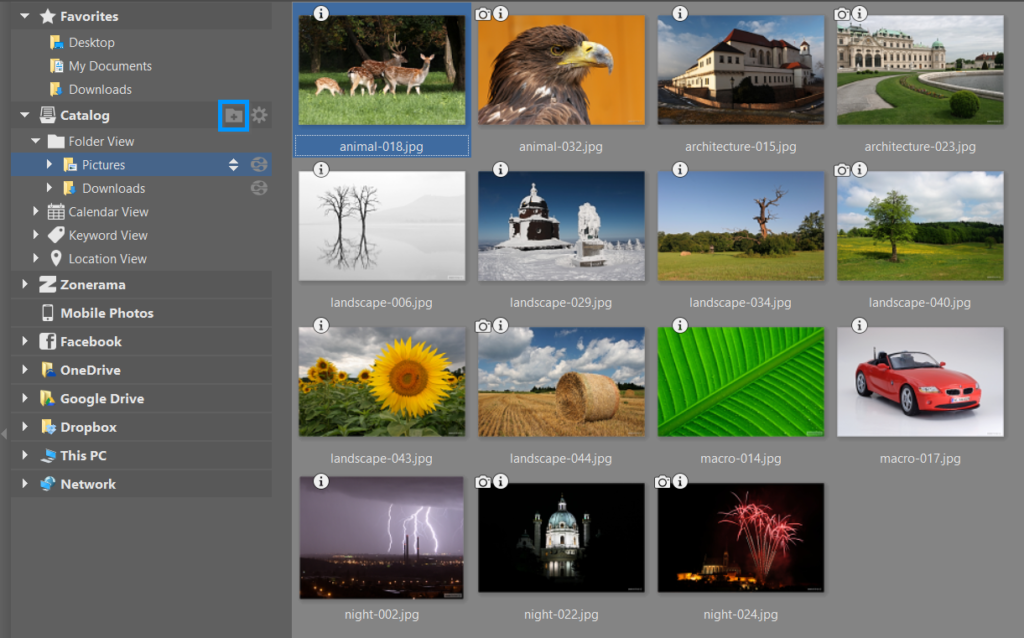 Then just choose which folder you want to add. ZPS takes care of the rest—it indexes this folder and all its subfolders. After choosing the folder, you arrive in the Catalog section of the Preferences window. To add more folders, use Add Folder… in this same window. To "uncatalog" folders, use Remove Folder.
You might notice the checkboxes here. These checkboxes do not set whether or not a folder is cataloged. Instead, they set whether or not ZPS stores large previews for the pictures in that folder. This option is useful when you're cataloging USB disks and other locations that aren't hooked up to your computer nonstop.
Once you're back in the Manager, take a look at the Catalog on the left. You'll notice a blue triangle in the Folder View for folders that are still being indexed, instead of the usual gray triangle. Once cataloging is done, this triangle turns gray again.
You can also change the maximum available size of the thumbnails shown in the Browser. (That's the big middle area full of thumbnails in the Manager.) To do this, move the Maximum Thumbnail Size slider. To actually change the Browser's current thumbnail size, use the slider in the top middle above it.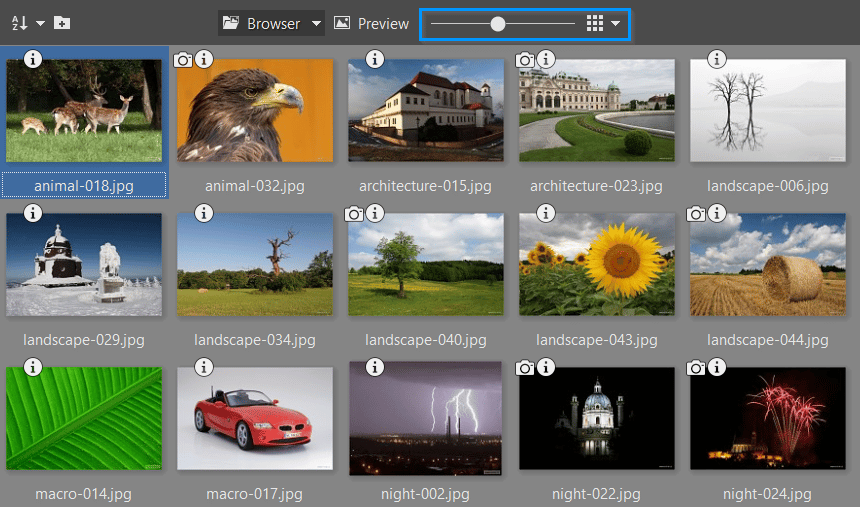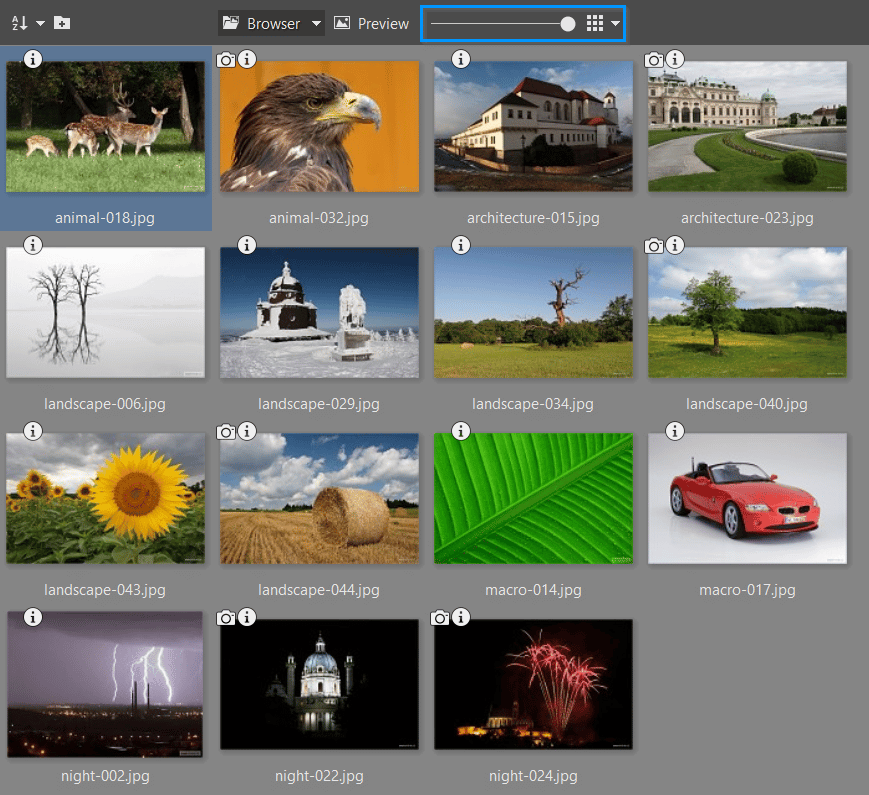 Tag Your Photos to Get More From the Catalog
The Catalog is especially helpful for photo organizing when you've tagged your pictures with labels, ratings, and keywords.

Keywords are a great aid when you need to quickly find a specific photo—maybe showing your grandparents or your trip to the mountains—but you can't remember when it was taken or what folder it's in. If you use keywords, then you can later reach that photo quickly using the Catalog's Keyword View, in the left panel.
To quickly keyword-tag your photos, use the right-hand Side Panel, or drag the keywords from the Keyword View onto your picture. (Or drag pictures onto a keyword—that works too!)
To organize your keywords into categories, drag and drop them onto each other in the Keyword View.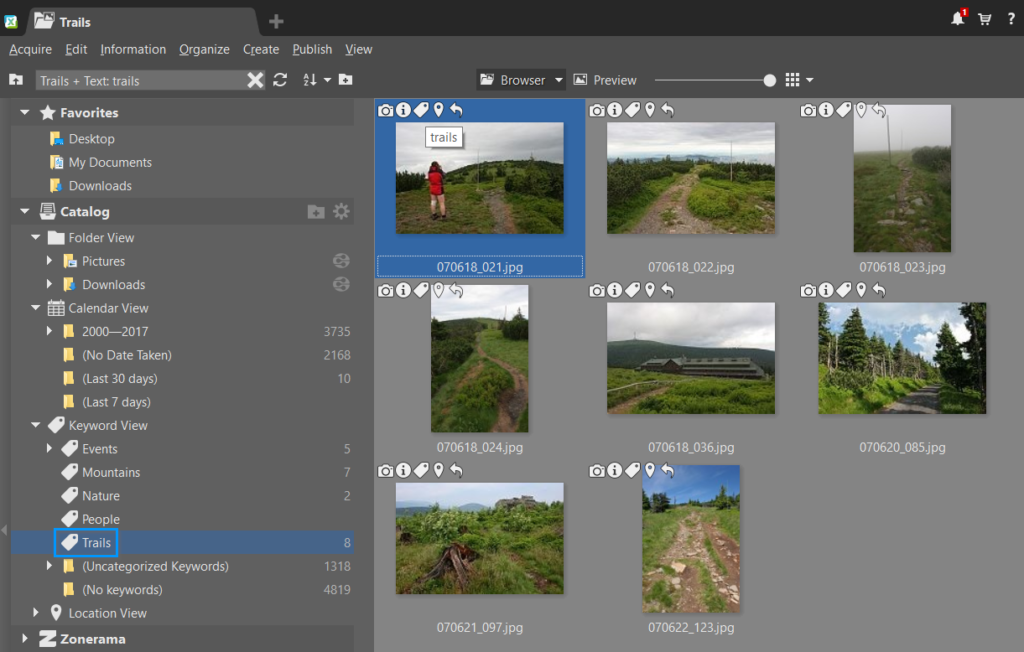 Quick Searches
Quick Search can show you precisely the pictures that you need right now. You can search all your cataloged folders to find, for example, every photo rated above three stars, or every photo with a certain label. You can also search by filename and path, or by GPS location.
To search in your photos, use the Ctrl+F keyboard shortcut or click in the search box. That's the box with the magnifying glass near the top left corner.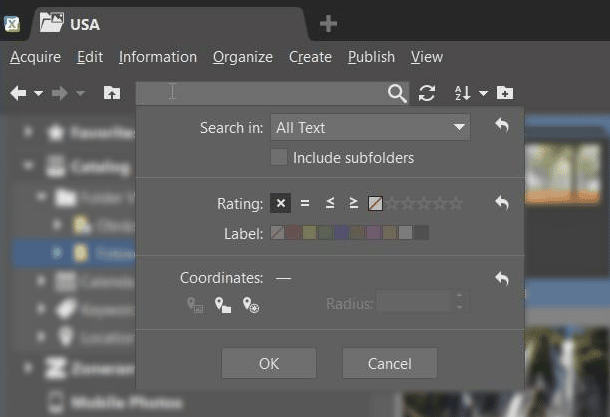 Since all this information has already been cataloged for your photos, ZPS doesn't have to look it up again, so searching goes fast. But don't take our word for it—try it yourself. Use the 30-day trial of Zoner Photo Studio if you need to. You'll discover that the Catalog makes work with your photos easy.