A Photographic Experiment: Panning in Autumn Photos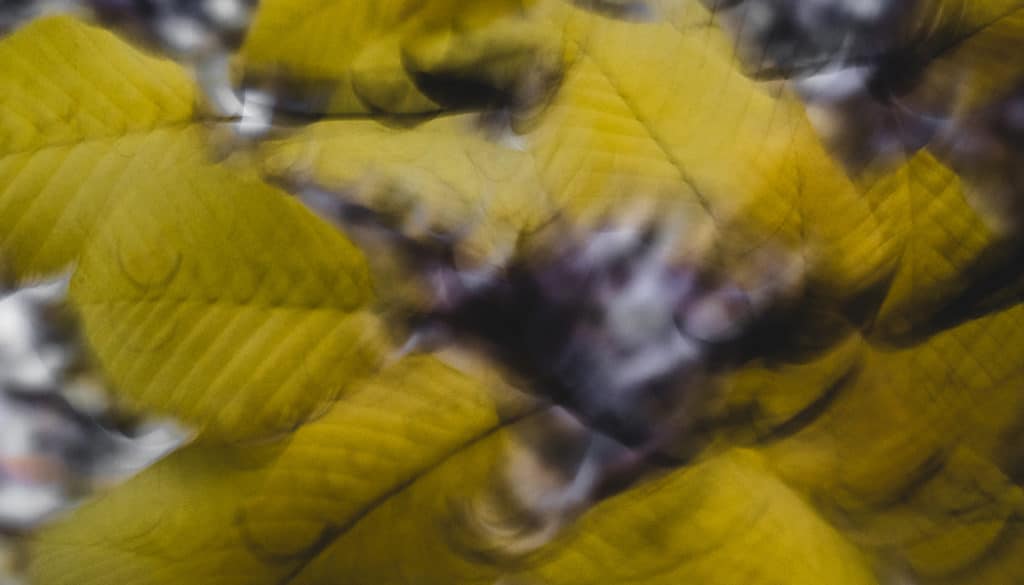 Even though panning is a technique that's mainly used in sports photography, you can experiment with it elsewhere too. For example you can get interesting abstract pictures by using panning on autumn leaves—that is, on something static. Read on to learn about my photographic experiment; you may find inspiration here for interesting photos of your own.
Panning? Doesn't ring a bell for you? Surely you've seen pictures that capture, for example, a quickly moving car that has perfect sharpness while its surroundings—like highways or meadows in the background—are blurred. Ever thought about how a photo like this must have been taken, since its exposure time must have been short (e.g. 1/1200 of a second or shorter), and any quick motion was thus "frozen"—so in theory the background shouldn't be blurred?
The trick here is panning. This is a  technique where the camera follows a moving object. It's used to emphasize motion.
By moving the camera in the direction of the object being photographed, we're reducing its speed relative to the camera. The result is a blurred static background and a sharp moving object.
But watch out; due to the motion of the camera, you must constantly change the composition. That's why it's important to think the picture through in advance. In what position do you want to capture the subject, and at about what speed will you be panning?
Non-traditional Uses of Panning
Even though panning is mainly used in sports photography, there's no reason not to be creative and use it for things like interesting pictures of autumn leaves.
Thanks to the long exposure time, the camera registers motion, making the picture more dynamic. At first glance it can seem like the pictures were taken on a windy day.
Camera Settings
As far as the camera settings are concerned, I recommend an exposure time of around 1/8 of a second, and moving the camera to the side while pressing the trigger.
Thanks to the long exposure time, a large amount of light will fall on the sensor. Therefore you need to correct for this by using a quite small aperture and a low ISO value. Thanks to the large f-stop you'll get a higher depth of field and thus a larger number of "focused" leaves. Some lines will stay sharp; it all depends on your panning motion. Also, don't forget to turn off optical stabilization. That's because this stabilization balances out swings of the camera and thus reduces the panning effect.
Copy the scene's important lines with your motion. Like in the photograph below, where the edges of the branches have remained relatively sharp, while the leaves, in the direction of motion, are blurred.
Even though this photo is more abstract than descriptive, it's still good to think about composition. In this case it's not entirely easy to position all the elements precisely where you might want them. Because you are moving the camera in various directions, the leaves you're photographing will end up in different places. So all you can do is try, and then crop the picture if needed during post-production.
In this last photo, the motion of the camera was not uniform. After the nearly-static start came an abrupt motion and then an almost-calm end. Because of this, it has more of a double exposure effect than a panning effect.
Playing with colors in an editor is definitely worthwhile. Try changing the tints of green and yellow shades. Or just let the colors of autumn shine through by emphasizing saturation for yellow alone. Sometimes, meanwhile, certain colors will not be a good fit for the image. In the last photo you can notice how I've toned down the blues.
Experiment!
Photos are above all about the interplay of colors, and autumn offers many colors indeed. Experiment with long exposure times and with the panning motions you use. Another interesting experiment is to compose parts of the blue sky into the photo, in contrast with the yellow leaves.
To provide a comparison with your simulated wind, you can capture autumn details on an actual windy day. Use a long exposure once again, and use a tripod.