The Magical World of Glaze Ice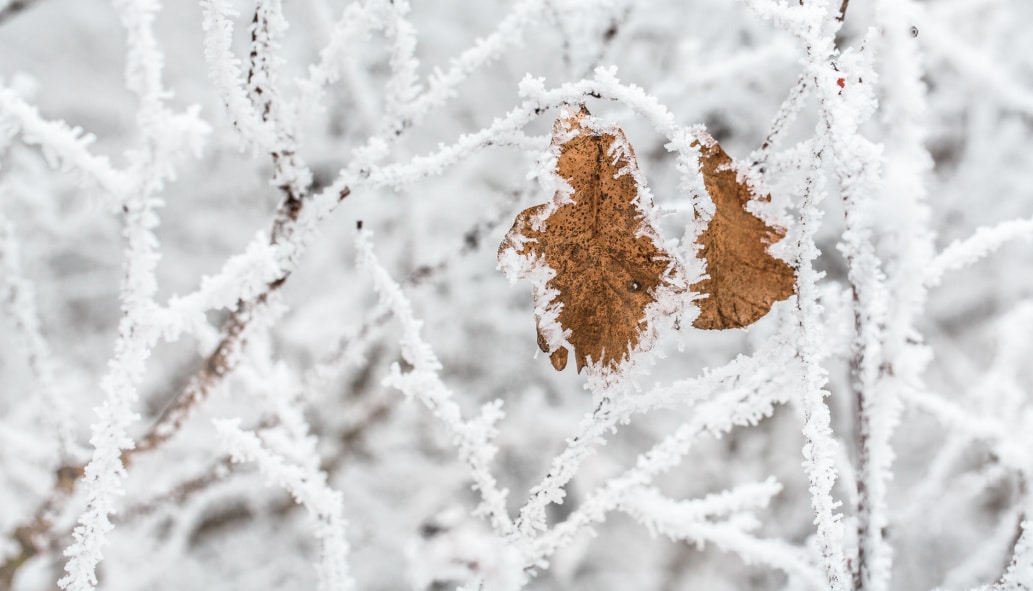 In winter, and sometimes at the end of fall as well, weather conditions appear that can really spice up nature. While bare tree branches are boring, when the glaze arrives the scene suddenly changes, and a photographer can head out for a rich frosty safari.
Internet sources inform us that glaze ice can be expected at temperatures of roughly 10.4 to 37.4 °F. Glaze is simply humidity, in the form of either mist or clouds, that gradually freezes onto objects' surfaces as it comes into contact with them.
The Different Types of Glaze
This definition sounds simple, but several phenomena are hidden inside it. At relatively high temperatures for glaze-friendly objects (from 26.6 up to 32 °F), you'll run into translucent glaze, which uniformly blankets everything that it touches and forms a compact, translucent layer.
The photo below captures such an "ice jacket" from the end of 2014 that covered practically all of the Czech Republic due to a combination of light rain and frozen soil.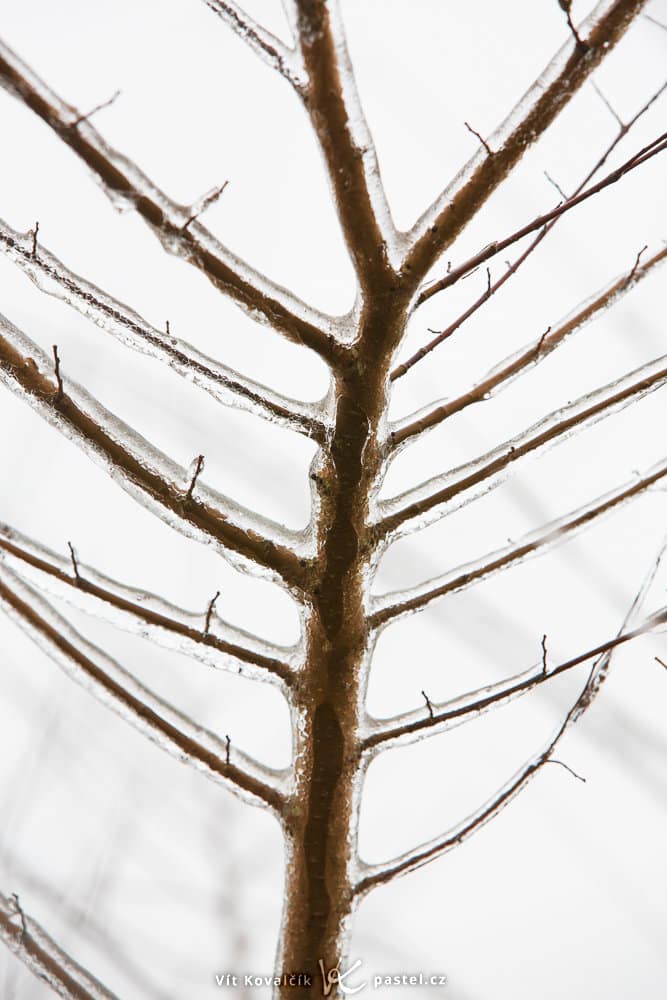 Meanwhile when objects are at lower temperatures (from 14 up to 28.4 °F), a grainy glaze appears. Here the water freezes so quickly that it doesn't get a chance to adhere to surfaces perfectly, and so it forms white crystals.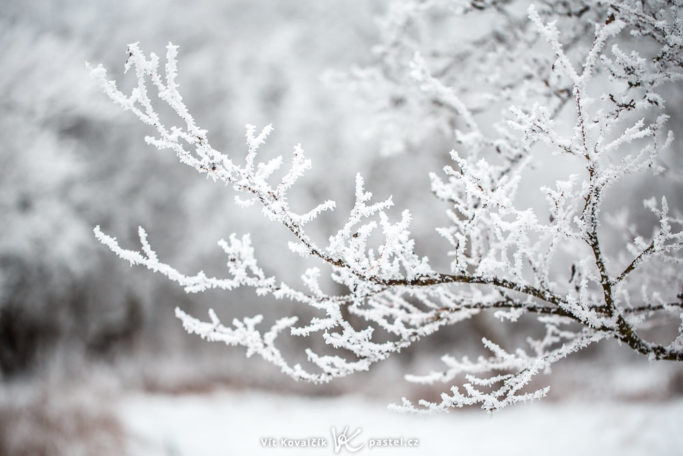 Glaze that forms in a certain direction is photogenic as well. This effect is caused by the wind. One thing that's a bit unintuitive about it is that it forms in the direction against the wind, which is the direction from which the freezing crystals fly in.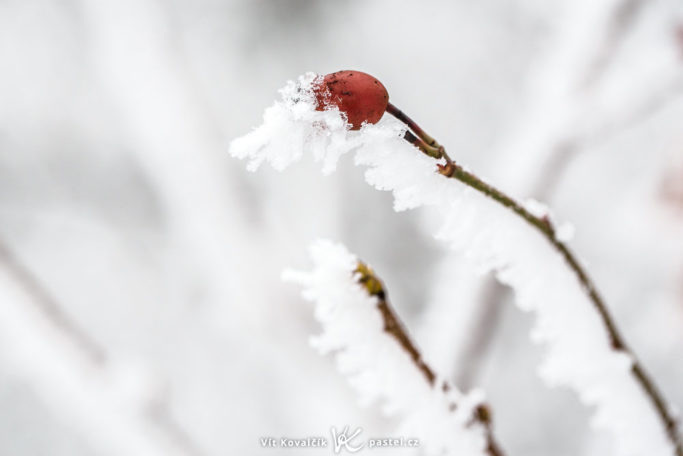 Photography Tips
Just as when you're photographing snow-covered landscapes, here as well your result should be a very light photo. But the trouble is that cameras don't recognize the scene and don't know that such light objects are lying before them. Instead they conclude that there's too much light, and darken the exposure correspondingly. So your job as the photographer is to correct for this darkening by setting exposure compensation with a value of around +1 EV.
Then you'll get images with the proper lightness. But there's also the threat of the opposite problem: white areas starting to muddle together into single-colored areas with maximum lightness—the dreaded blowout. So when you're taking your pictures, periodically check your histogram and adjust the exposure compensation so that it's just low enough to prevent blowout.
One second minor piece of advice concerns composition: It pays to think over what will be in the background when you're photographing a branch or fruit that's on it. Glaze itself is very light, and it's very hard to distinguish against a light background. If you find a spot that's darker or lighter than usual, the glaze will stand out more against that. You can compare the following picture with the photo of grainy glaze above: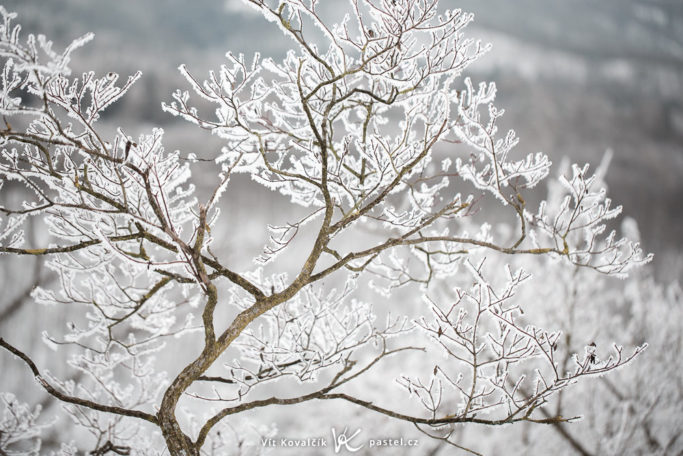 Even though this is a similar style of photograph, this one is more pronounced. But finding an appropriate background can be tough,  especially if the glaze has literally covered everything and the air is full of mist or haze, which happens frequently. So this solution is sometimes difficult to implement. Despite that, trying to seek out a suitable background is a good photographic exercise, because you'll get good use out of this skill for most shots in most genres.
Photograph Details…
Glaze is very photogenic from close up, and if you find any isolated leaves, you can get a beautiful reminder of the past season that's also a portrayal of the conquering power of winter.
The details of fruit that the glaze has caught by surprise are equally enticing.
Also very interesting is "omnidirectional" glaze. This effect only truly shines when you shoot from very close up.  Meanwhile take note that this time the background is practically white; that's because I shot this photo against the sky. Because fruit grows on thin branches, photographing it during even the weakest of winds is very difficult, and it pays to take plenty of shots just to be sure, and to choose a high f-stop for a large depth of field. However, if I had included a background of some kind, the high f-stop would have put it in focus as well, which I would not have wanted. That's why I shot against the unintrusive sky.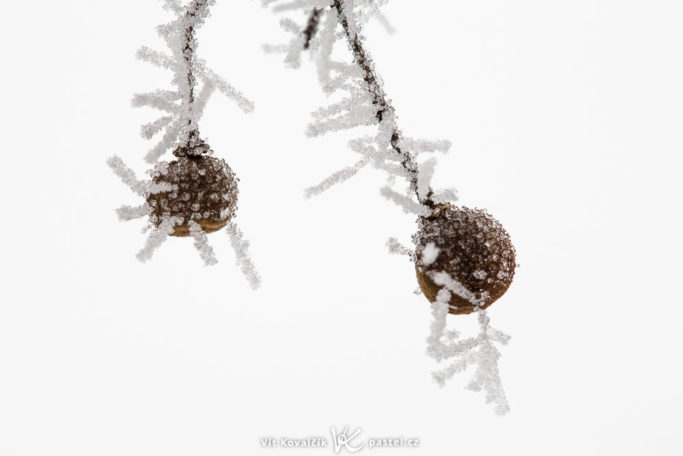 If you own a macro lens, you can also get up extremely close and can practically photograph individual crystals. Here the photo is mainly about the combination of snow and glaze that's on the small thistle. The focus is on the closest tip, while the others in the background look more like a small explosion.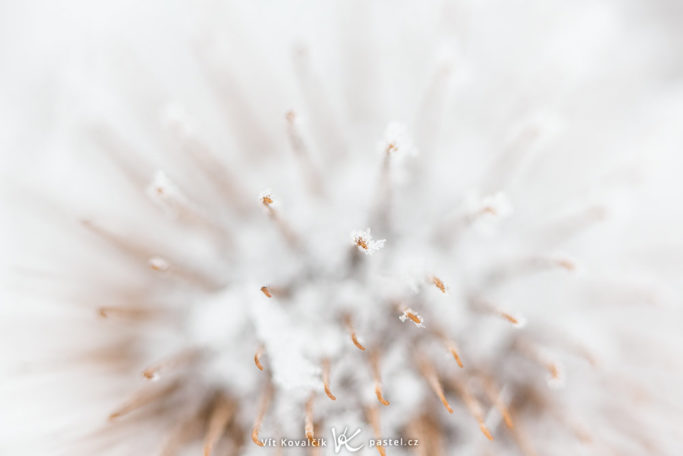 Don't forget that glaze also envelops man-made objects, and so interesting details can be found on these as well.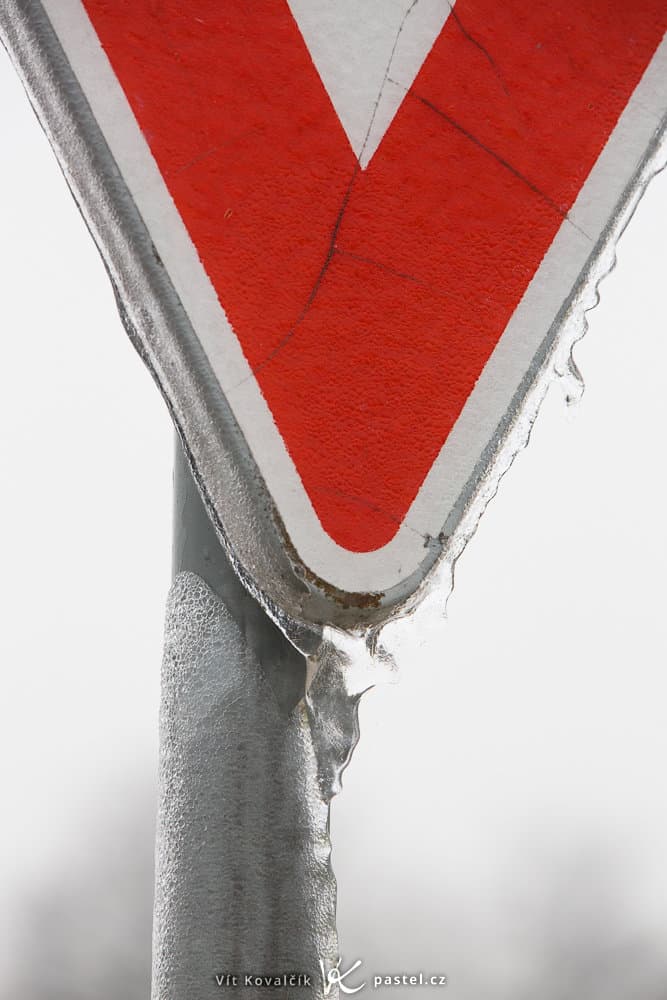 You've Zoomed In, Now Zoom Out
Even though my eyes are full of wonder as I walk through the frost-filled forest, my camera only captures a two-dimensional image, and the white trees against a white background with a white sky all visually blend together. Far from all of my pictures turn out well. Even despite this I try to capture large compositions, because they serve as a reminder of the real situation that's now before me.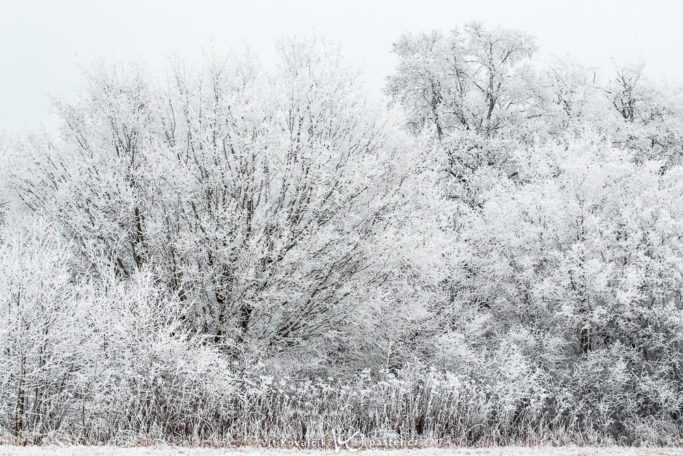 It's also practical to take advantage of glaze-covered branches as a compositional element to frame some other, more conspicuous scene.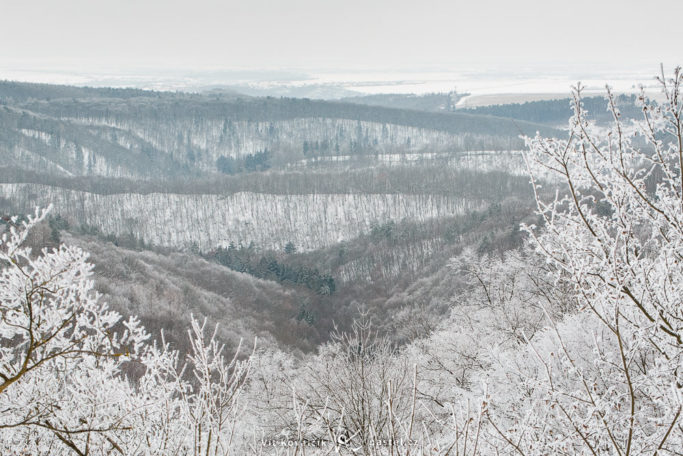 Tread Carefully Towards Your Frosty Photos
If there's glaze ice covering everything, then it's also covering the ground. Walking out to take your pictures may turn out to be an extreme sport. Fortunately this only applies for a small number of situations, and generally you're not in any great danger. So have no fear, and when frosty weather arrives, head out for some classic winter pictures with the season's elegant queen—glaze.