Zoner Photo Studio X autumn update: New export dialogue, content-aware collage, 1:1 previews and much more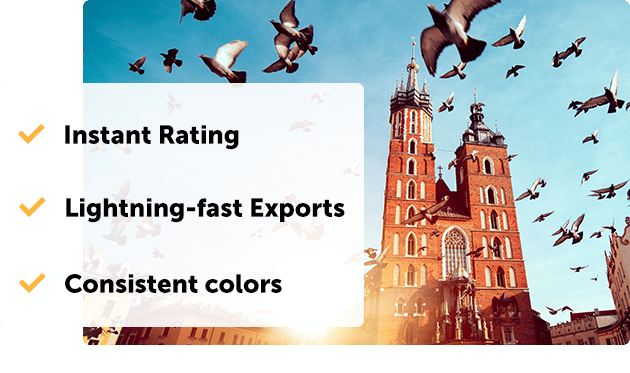 This autumn update, Zoner Photo Studio X brings multiple new features and improvements. You can look forward to new export dialogue, Content-aware collage, high quality 1:1 preview and redesigned Color management.
All new features strive to create a more efficient and user-friendly experience. They take Zoner Photo Studio X to the next level and will enhance your workflow. In the following article, we would like to give you a brief overview.
Download Zoner Photo Studio X and try it free for 7 days. If your trial period expired, don't worry. Users have an additional 15 days to test all the new features, free of charge.
New export dialogue
The export dialogue comes with rapidly improved functionality making it an immensely powerful tool. With the new dialogue, you can create your own export presets and even export multiple presets at the same time. For example, you can export high-res images and images with a reduced file size for the web simultaneously. Besides this, you can now use the export dialogue to upload photos to Zonerama album or Zoner Photo Cloud.
Zoner Photo Studio X analyses your selected active presets in the background. It will notify and warn you about possible collisions which could lead to overwriting your files.
There are also multiple parameters added for modifying your photos during exporting. You can select the Source of your images. Use Preloaded quick previews which utilise data from the cache of our software. This way you can, for example, export photos for client proofing extremely fast. 
In addition, you can rename files and subfolders using text variables such as the date, counter or label. This will come in handy when you try to set a custom order of photos or when you want to build a well-organised archive. Sharpening is integrated too and now you can select your preferred amount of sharpening for your monitor or for your prints.
Performance has increased too. Exporting is now one-third faster with RAW files and four times faster with JPGs.
Perfect colors
The Zoner Photo Studio X autumn update brings a completely redesigned Color management. You will automatically benefit from the color-accurate image viewing in all of the Zoner Photo Studio X modules. Color management is by default, active. The settings are taken over from the operating system and advanced users can apply custom color profiles for their devices in Preferences.
1:1 previews
The new option for handling RAW files will give you a leg up over your previous workflow. Thanks to 1:1 previews, you can now view even the largest RAW files at full resolution and in their true colors, without slowing down your computer. This new feature will be especially helpful to owners of Sony and Fuji cameras and DJI drones, which don't add full-resolution previews to their RAW files.
Content-aware collage
You all kept asking for it, and we made it a reality. We added a new automatic Content-aware mode for collage. Our templates will adjust to your photos without cropping or changing the aspect ratio. Without white borders and bars. To unleash your creativity you can even place stand-alone photographs in your collage.
We are also proud of significantly faster ratings by stars or color labels. Now it is almost instant with a large number of selected photos. You will exceptionally speed up the culling of your photos.

You can also look forward to

new types of calendars

in the Create module. We are adding a weekly layout with multiple stylish templates.

Business customers will benefit from the new

Annotation tool.

After activation, this new feature allows adding text and various shapes in the Develop module.