Add Pizazz to Your Winter Photos: We'll Show You How to Edit Your Photos of Snowy Landscapes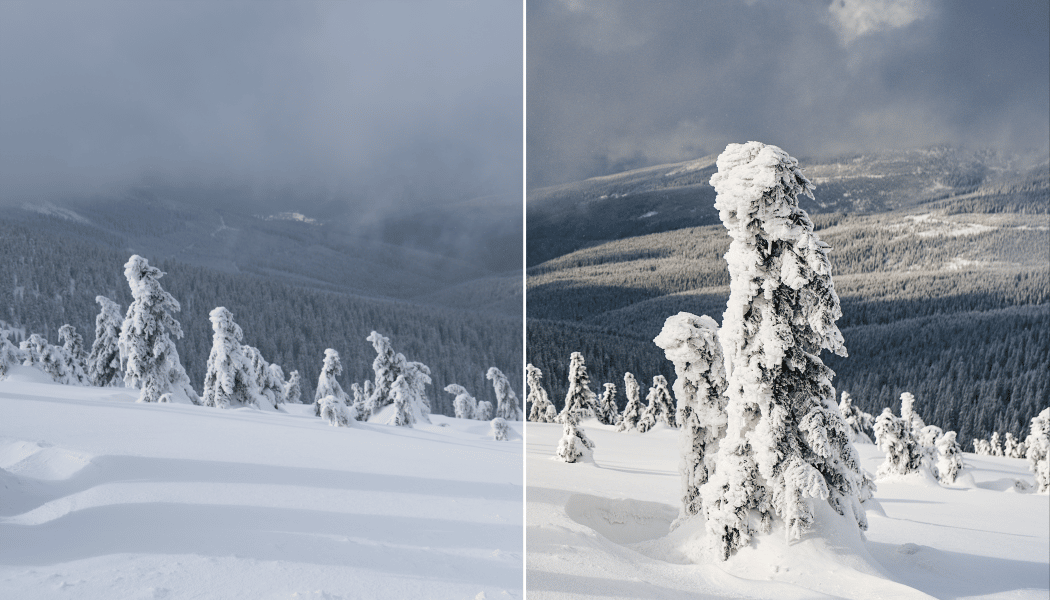 After a snowfall, you have to pay attention both on the roads and in your photography. After all, the landscape suddenly looks completely different. And so pictures get taken and edited differently too. Here we'll be trying out one such edit and examining how to get the most out of a winter landscape.
Photos of a snow-covered landscape are often gray and boring, and devoid of contrast and colors. Like this one. We'll try to pull a little more out of it in Zoner Photo Studio X.
TIP: When taking your pictures, keep in mind that your camera's exposure metering tries to produce a neutral gray photo. So when you leave the exposure up to your camera, nearly all your photos with snow in them will be underexposed. We recommend shooting with an exposure correction of +1 EV.
Adjust the Exposure and the White Balance
Open the photo in the Develop module. After that, first adjust the settings in the Exposure group. You'll find this function in the right panel. You'll definitely want to add Contrast and Clarity, and Dehaze will come in handy as well. Your picture will then be livelier and higher in contrast.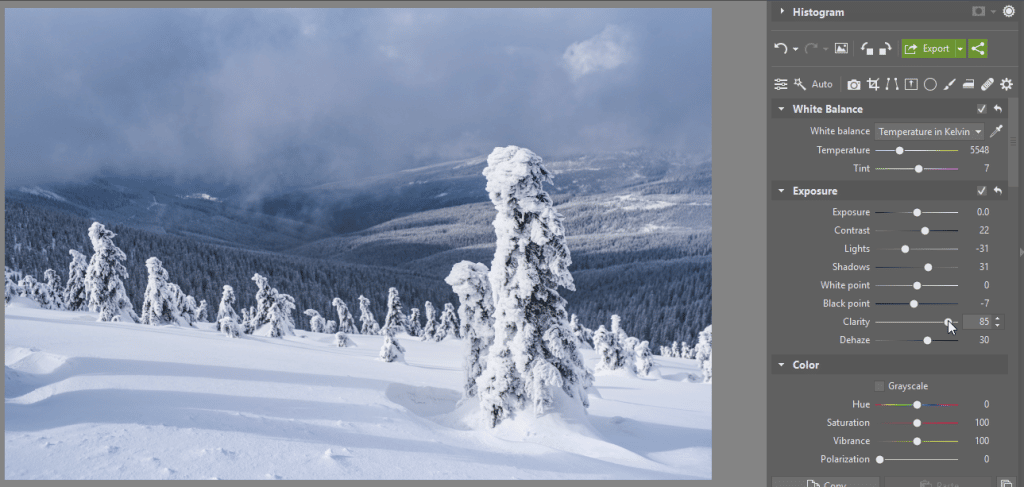 Adjusting the exposure here has given me a photo with better contrast—one where I can better see the effects of White Balance. (This function is also in the Exposure group in the right panel.)
As your first step, try clicking into a neutrally colored spot with the eyedropper. However, you'll generally still go on to fine-tune things manually.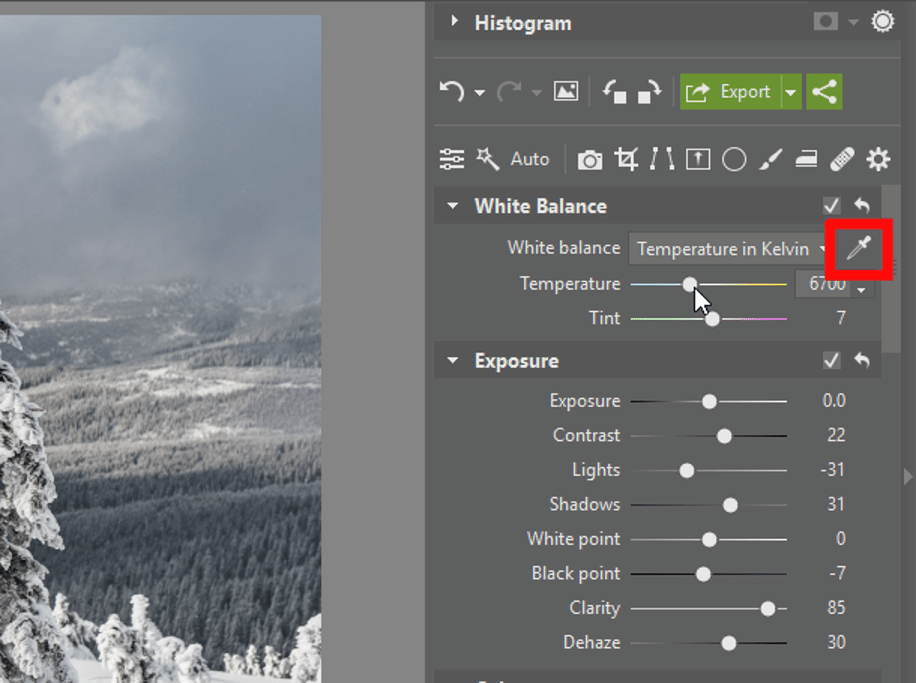 Enhance the Picture's Colors
Winter photos are often nearly black-and-white, because in a snow-covered landscape, there aren't many places where colors can shine. But if you add some Vibrance, that will draw out at least the small bit of color that has remained in the landscape.
Definitely check out how Polarization affects the photo as well. It should help to add highlights to the photo—but in a slightly different way than Vibrance or Contrast.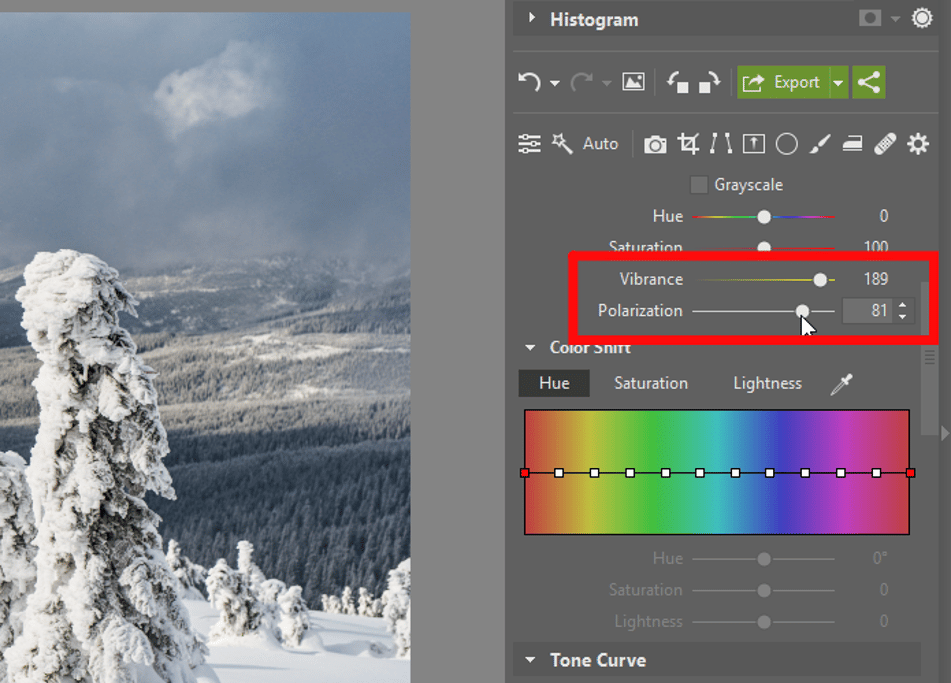 And Local Edits to Wrap Up
For this photo here, it will definitely be interesting to highlight the clouds at the top as well. So I use the Gradient Filter (G), and once again I set an increased Vibrance and Contrast and reduce the Lights and Exposure.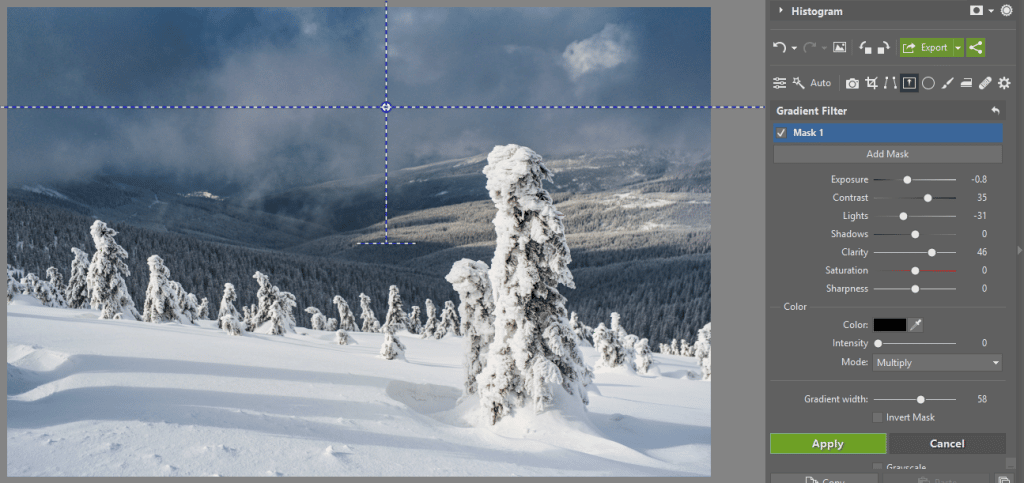 The photo before and after my edits.
Add Some Shine to a Snowy Landscape
Even though most winter pictures start out seeming gray and boring, it only takes a few edits to produce very interesting pictures.
And even in years with a muddy Christmas, there will always be at least a little snowfall. So be prepared—download Zoner Photo Studio X and try it 30 days for free.