It's Spring Cleaning Time. Tag Your Photos!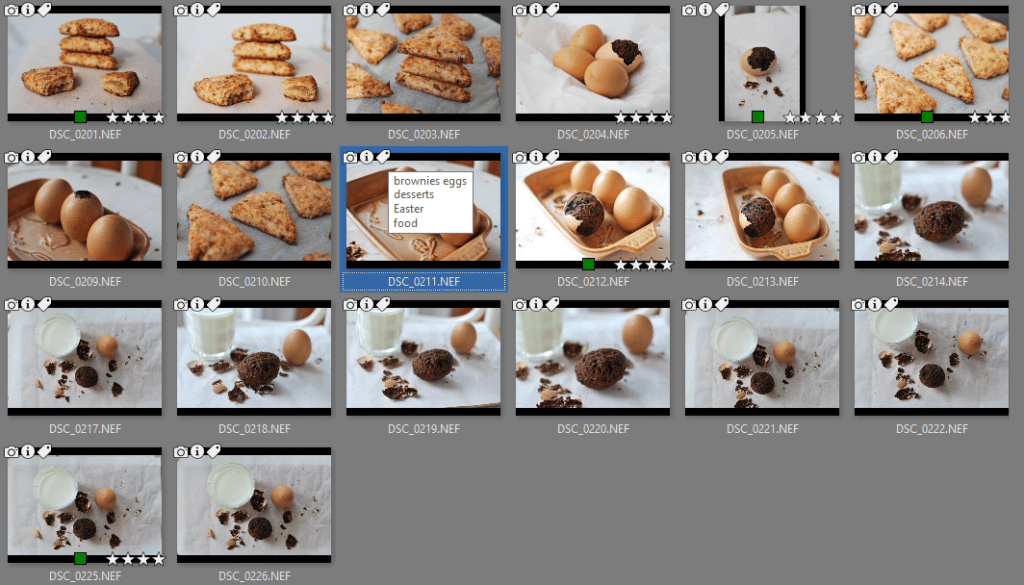 It may have already happened to you: you needed to quickly find a photo of your parents, or pick the best out of a set of mountain photos. But your pictures were scattered all over your disk, so just browsing normally, you were helpless. And yet, there is something that helps with precisely this job. What is it? It's keywords! Keyword-tag your photos, and searches like these become a question of seconds.
Keywords are an invaluable aid to photographers who like to return to their photos again and again. Use keywords to tag photos with information like the event or place where they were taken, the people and objects in them, and other information that isn't expressed in the file or folder name. (Which should be "almost all of it"—filenames especially are a terrible place to store information.) Finding a picture in your collection is a matter of seconds from there. And meanwhile, you might change your file and folder names in the future, which will make finding pictures by filename even more complicated.
Decide on a Structure for Your Basic Keywords
The first step in organizing your collection is to think about what kind of pictures you take most often. Write down the keywords that you most commonly need for work with your collection. You'll probably be able to sort most of them into some sort of categories. The most typical keyword categories out there are Events, People, and Topics, and so these are the categories built in to Zoner Photo Studio.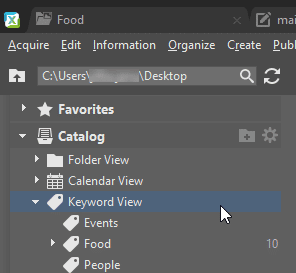 But don't feel like you're forced to use these—you aren't. I for one like to use a few categories of my own, like a "Food" category with keywords like "dessert" and "soup" beneath it. A few years ago during my internship at an architecture studio, I classified and tagged inspirational photos with keywords like bench, flower bed, fence, stairs, etc. Maybe for example you photograph animals, and so your categories will be things like mammals, birds, and lizards.
Where are keywords stored?
When it comes to the place where keywords are stored, the answer is almost always "right inside the picture"… but you should pay a little attention to the picture's format here.
If you're working with pictures as RAW files, never erase their associated XMP files. These files contain all the data that should "travel along" with "their" RAW files. This includes both metadata such as keywords, ratings, labels, and exposure data, and edits that you've made to the picture in Zoner Photo Studio's RAW module. When RAW files are developed, all this data is incorporated into the output picture—typically a JPG. Work with JPG in this respect is simpler.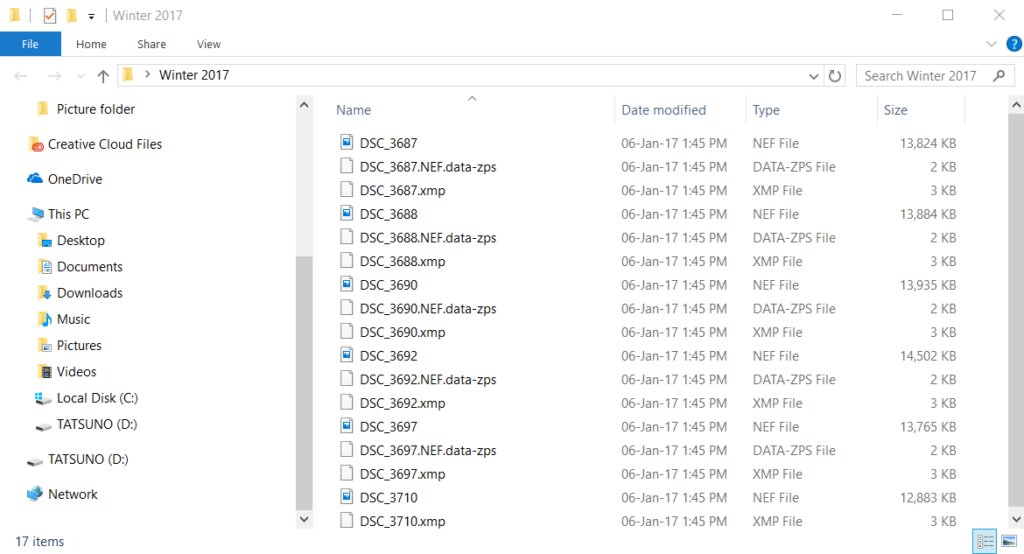 If you are shooting RAW+JPG pairs, use Zoner Photo Studio's Group RAW and JPG button to make the program always write keywords (and other information) to both files in a RAW-JPG pair.
Describe Pictures While You Download
The moment when you copy your pictures from the camera to the computer is the best moment to tag them. Personally when downloading photos I like to give each photo set basic keywords (essentially categories) like the event name, subject (landscape, food, portrait, reportage, etc.), location, and possibly a name if the whole shoot is photos of a person. For writing detailed descriptions of individual photos, I use the Manager.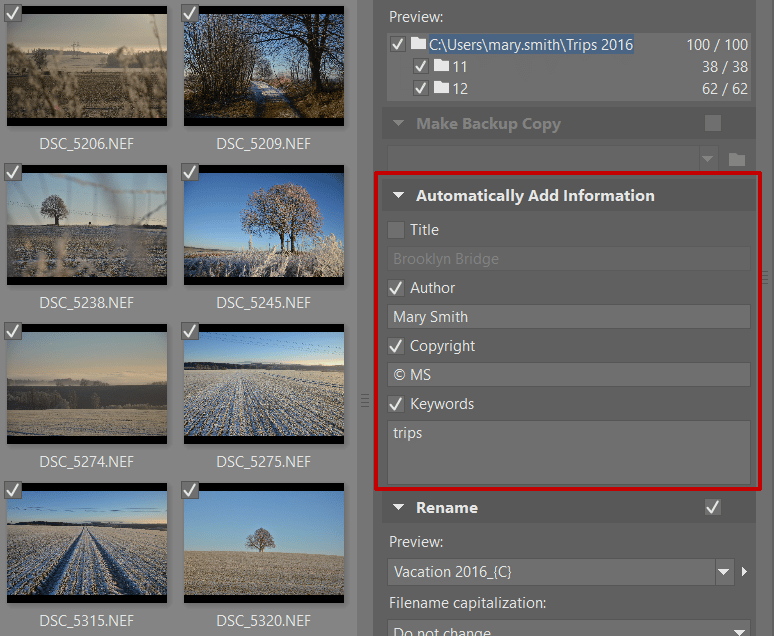 What Should I Describe?
Describe whatever you think is suitable, and what you'll need in the future. Personally, I'm very systematic and prefer to over-describe rather than under-describe. So e.g. for food photos, I give photos tags like food, dessert/soup/breads, cake/pie, etc.
I mark vacation photos with a keyword for the trip or location (Grand Canyon, Toronto, etc.), although I really shouldn't—I should use GPS coordinates for that instead. Since these photos are quite varied, I also tag them by the places and people they show.
Recently I wanted to present a special album with some pictures of my newlywed friends to them as a wedding gift. I just had to enter their names on the computer and I could see every photo with them in it. I didn't even have to use ZPS—just the normal Windows search.
Want to Search by Keywords?
Use the Catalog
Searching via the Catalog is the fastest image searching there is. The Catalog doesn't go through the files themselves, but instead a virtual catalog of them. Not only can you search in the Catalog, you can also browse it, either as folders or as a Timeline.
To do a Catalog-powered search, switch to the Catalog view in the column on the left and then click the search box towards the top right of the Manager, or use the Ctrl+F shortcut key.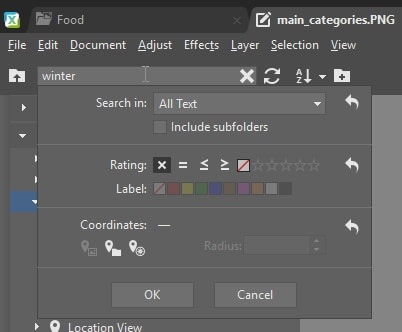 Search in Any File Manager
Keyword searches work in any Windows file manager, because all these managers search in pictures' EXIF information. Although the search will probably take longer than in the ZPS Catalog, you'll be able to find pictures even in uncataloged folders and on computers where ZPS isn't installed.
A tip in closing: If you're looking for a way to sort photos into collections or albums, use keywords. To create a photo collection, simply give every picture that you want in the collection a unique, shared keyword of your choice. If you don't want to forget the keyword, store it in the Keywords Pane. Finding sets of your pictures by topic will be a snap from there.