Learn to Edit Portraits and Discover the 5 Most Common Portrait Photo Problems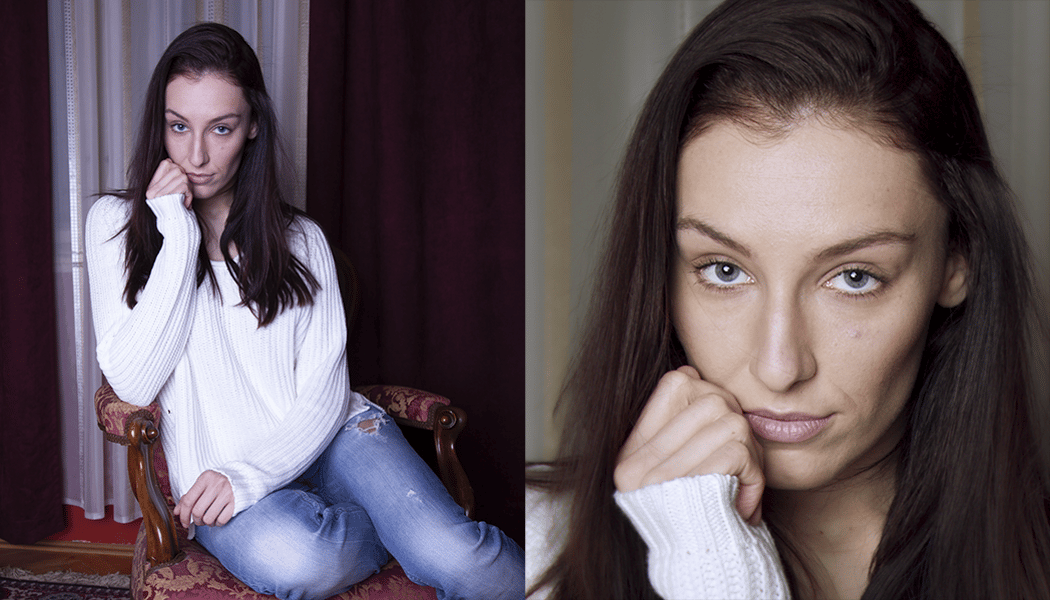 Just about every really good portrait you see has been retouched. But digital portrait editing isn't easy, and it has its rules that need to be followed. No matter whether we're talking about balancing exposure or colors, or maybe highlighting the eyes. Take a look at how to work with these rules.
When you're editing portraits, be careful and don't overdo it. Everyone knows what real skin looks like. So even a small deviation in your colors can be distracting.
Therefore, ideally you want to use non-destructive editing, where you can go back and fine-tune your individual edits while also keeping your original intact. That's why you'll want to reach for the Develop module in Zoner Photo Studio X. Use these controls for your retouching:
Crop and Rotate

(C),

Straighten Lines

(K),

Tone Curve

,

Exposure

,

White Balance

,

Hue

,

Radial Filter

(R),

Clarity

,

Sharpen

, and

Filter Brush

(B)
Also keep in mind that ideally you want to be shooting to RAW. That gives you much broader editing possibilities than you'd have if you were working with pictures in JPG format.
Good Composition is the Foundation
Getting portrait composition right isn't hard, but you do need to practice good composition often. When you're editing photos that have composition errors, the Crop and Rotate (C) and Straighten Lines (K) tools will help.
For my example photo here, I'll be using a nearly full-figure portrait instead of a traditional one. I took it from slightly above, since using a badly-chosen angle would lengthen the subject's legs at the expense of her face. And meanwhile, taking a picture from slightly above isn't strictly a problem. But to eliminate the distortion caused by how the lens is tilted relative to the subject's face, I'll use Straighten Lines.
In this particular picture, the curtain behind the model will help with the straightening. I just mark the lines that should be completely horizontal or vertical. Then I move and resize the cropping rectangle to fine-tune the final composition. I've made very sure to not even come close to cropping into the subject's face.
I took this photo on a 21 MPx DSLR, and so even after my crop, the image is still large enough to publish on the web or use for small prints.
I use the Crop and Rotate tool to crop the photo, and set the Crop Marks to Golden Ratio. Then I move and resize the cropping frame so that the subject's eyes and lips are within the golden crop.
The best approach, of course, is to get the composition correct during the shot—but reality can get in the way. For example your lens might not provide a long enough focal length.
A crop, meanwhile, will let you shoot a portrait even with a wide angle, and without having to step up too close to your subject. That prevents bulging faces.
Adjusting a Portrait's Exposure
For portraits, the most important thing exposure-wise is the subject's skin color. The photo's other elements (e.g. its background) aren't as important. Here's how to check that color. When you run the mouse over a picture in ZPS, the Histogram area shows RGB values.
For your basic exposure adjustment, keep in mind that for the average white person, the R value (the first number) should be around 200. (Some sources recommend as high as 227 instead, while placing Asian skin at an R of 200; meanwhile, 128 is a fairly typical R for black skin, for example.) Generally brightening the skin a little won't do any harm. That will also optically clean it up a little.
Ideally you want to work on a calibrated monitor, although for amateur work you don't actually have to. When adjusting exposure, use the Exposure slider or the Tone Curve controls.
The Exposure slider is simple to use. Move it left to darken the photo, or move it right for brightening.
Work with the tone curve requires more knowledge and experience, but it has the benefit of letting you work with the picture's brightness curve more precisely. Bending the curve upwards brightens a photo, while bending it downwards darkens it.
Just click in the curve to add a node to it, and then drag that node up or down. When you click in the middle of the curve and then shift that node upwards, this mainly brightens the photo's midtones. In the lights and shadows, the effect of this type of change will be less visible.
Ultimately, getting skin tone right is an art. And meanwhile even within one ethnicity, there is no one universal skin color. So experiment, find the value that suits your subject best, and then stick to it within a series.
To get the best possible idea of what skin color you've given your subject, print a photo and then look at it in daylight. This is very useful, because the way pictures look on your computer is strongly influenced by your monitor's brightness setting. So they often look brighter on a monitor than they really are.
Fine-tune the Skin Color
With ordinary pictures, you may not even notice slightly shifted colors. But with portrait photography, the situation is different. Again: everyone can sense what shade healthy skin should have. So everyone's very sensitive towards deviations, especially towards cooler tones.
On the other hand, when you shift your subject towards slightly warmer tones, they look healthier. So this sort of tinting is often added to portraits deliberately. That's why photos taken at sunset, when the light is warmer, are so popular.
For an average subject of, as far as I'm aware, any ethnicity, you can assume R > G > B when setting skin tone. And meanwhile, after even a brief glance at my example photo, you'll notice that it has started out heavily shifted towards cool tones. The RGB values for the subject's skin are an alien-feeling 210, 170, and 180.
Always check skin tone in a place that's lighted and onto which no reflections are being cast. As for the result, you can see that in the next picture. There's a reflection in the area I've marked in red, so its readings are less valuable. So I'll be leaning more towards the green-marked areas for checking colors.
Use the Temperature and Tint sliders for basic color adjustments. In my case, I move the Temperature right and the Tint left. That gives the subject's skin a healthier shade. Their skin's RGB values are now 220, 180, 160.
You can also use Tone Curve, and I'll do just that. Here I won't be working with the whole of the Channel named "RGB," but instead with the Blue and Green color channels.
First I switch to the Blue channel. Moving it upwards adds a blue tint—it shifts the image towards cooler tones. Meanwhile shifting the curve downwards makes the image feel warmer. So I'll be doing that.
The green curve works similarly to the Tint slider—moving it up adds green, while moving it down adds purple. So I'll move it slightly upwards.
It definitely pays to learn to work with the tone curve. Even just the simplest work possible here lets you adjust colors more simply and precisely than the basic sliders do.
Portrait Highlighting
The most important part of a portrait is the eyes. They have to be in focus, even if that means making them the only part of the photo that's in focus at all.
But sometimes even that isn't possible. Blurring is especially a problem when you're using a fast lens at a low f-stop, where the depth of field is truly very small. But meanwhile, precisely that kind of setup happens to be the most popular way of shooting portraits!
In general that problem is that you can't get the photo sharp enough. So you have to mask its blurring. If you focused on something other than the eyes and face (e.g. on the background), then you'll want to make the eyes sharper than the background.
To achieve this, blur the background. While this is not exactly an ideal approach, when there's no other option, it will at least distract from the background. In the Develop module in Zoner Photo Studio X, the Radial Filter (R) will help with this.
Use this tool to mark an elliptical area around your subject's face and then turn on Invert mask. The effect will then affect the outside of the selection instead of the inside. To make the blurring as effective as possible, set the Clarity and Sharpness sliders to -100.
Setting Exposure to -0.5 can also pay off. That will also help to suppress the background.
How to Highlight Eyes
To emphasize eyes simply and easily, use the Filter Brush (B). It will help you brighten and sharpen them. And meanwhile, it's precisely through the brightness and sharpness of the eyes that a portrait gets attention.
So for my example picture, I'll emphasize the eyes by shifting:
Exposure to 0.2,

Clarity to 30, and

Sharpness to 15.
Now I'll set a suitable brush diameter and brush over the eyes to tell ZPS where to apply the filter. To watch the "before/after" as I go, I use the Mask toggle next to the Histogram.
Speaking of "before and after," here's mine:
Retouching Portraits
In the paragraphs above, I taught you a bit about about basic portrait edits. When a professional is working on a picture, they apply both these basic edits and detailed retouching that cleans up the skin and emphasizes the eyes, lips, and other elements of the face. But that doesn't mean an amateur can't do the same. To learn about this advanced retouching work, see our articles on retouching.
Still, even just the basic edits we mentioned in this article can significantly enhance a portrait. So just download Zoner Photo Studio X, try it free for 30 days, and get started editing. And you'll see how you can bring your portraits to life.