Surely you've run into this before: you're in a place that you want to show off through some great photos, but the weather is against you. There's a dull gray sky with no room for creativity. You have a subject that's interesting, but the rest is boring. In most cases you can make use of tone mapping, gradient filters and the like, but there are also cases where there's no adjustment that can make the sky look good, and yet something does have to be done with it. There is one last resort—replacing the sky.
A boring, bland sky that adds nothing to a photo. Photography lovers run into this kind of problem often. That's why in today's article we'll be presenting a brief guide on how to replace an uninteresting sky using Zoner Photo Studio.
However, I'd like to start by warning you not to use skies downloaded from the Internet. Use only your own, photographed e.g. in better weather. Not only are Internet photos often low-quality, above all they're someone else's property and creativity. And after all, you have some self-respect, right? You don't want to show off with a picture whose best part isn't your own work.
The First Step—Choosing the Right Pictures
Your first task is to choose one photo where you want to replace the sky, and a second one with a "replacement" sky.
For illustration I've gone through my own photo archive and picked out a photo where replacing the sky could only improve it. I took it once upon a time in some palace gardens. The gardens were lovely, but the sky was gray, with uncontoured clouds. And it was raining too. Mainly for this reason, the photograph is boring and drab. But it's a perfect fit for showing off how to exchange skies.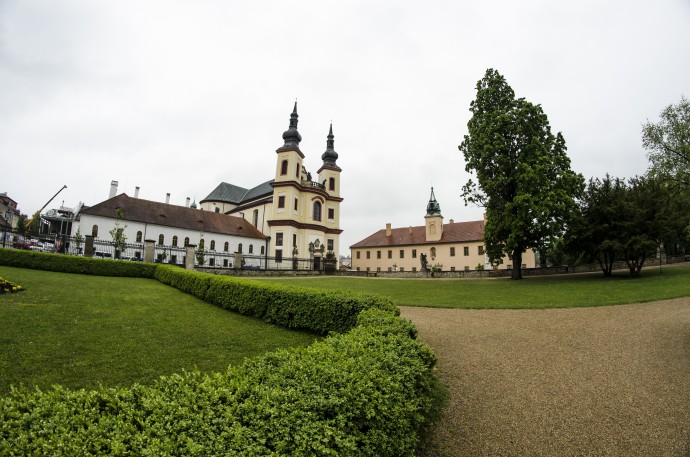 I've also found another with a spicier sky. It's this picture here, taken just outside a city. The picture overall isn't too usable, but its weather is markedly better. So I'll be borrowing the upper part of its sky.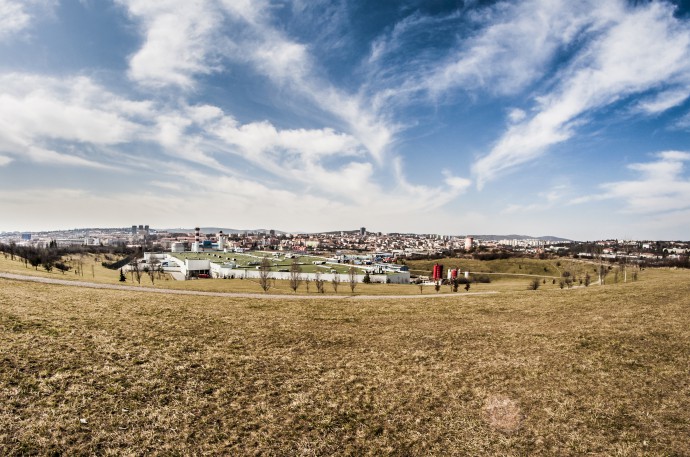 Both photographs were taken with the same focal length, which will help me avoid believability problems caused by shot width differences.
The Second Step—Overlaying the Photos
Before moving on to the second step—overlaying the photos—I need to deal with the fact that the first photo has the kind of faded colors that are typical for bleak weather. And that the second photo, meanwhile, was taken in bright sunlight.
So we'll add color to the original photo and contrast as well, and make other changes as needed. Note that if the second photo had the sun in it, I'd have to position it so as to leave the original photo's shadows leaning in the right direction.
Since I'm satisfied with the picture's colors, I use Image Overlay to lay the sky photo onto the base photo. The original sky is white, so the light part of the sky is already there for me. I just need to also get the blue part into this area. So I choose the Darken blending mode. This also helps me avoid making the sky cover the "non-white part" of the photo.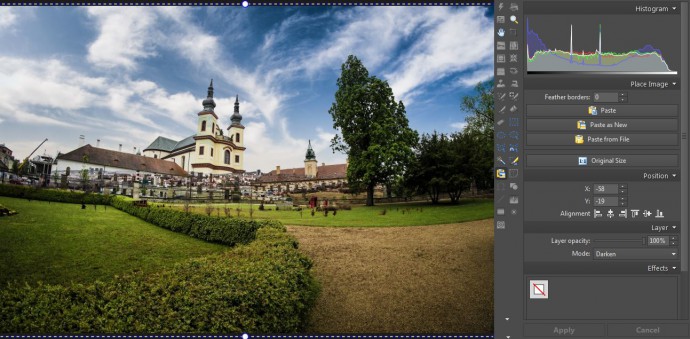 Before clicking Apply, I will need to deselect the lower part of the photo—the part with no sky in it. Here the best way to do this is to take the Selection Brush and keep only the sky area. For complicated photos, you can use other selection tools as well.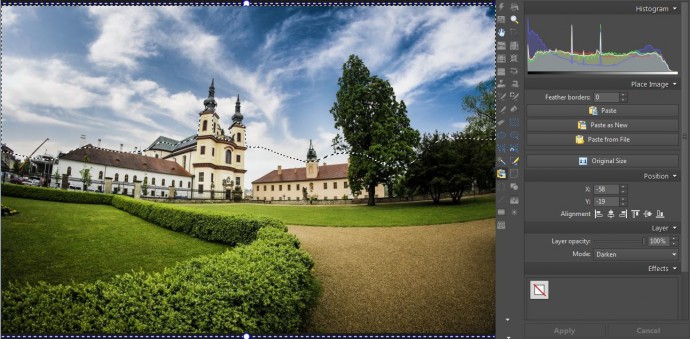 As the illustration shows, this is not the kind of selection you need to sweat over for hours. Rough is enough. Thanks to the Darken blending mode, the new sky is only really visible in bright areas. That eliminates the need to make a complicated selection around the tree branches, smokestacks and the like.
The final version and the original. To see the changes, click and drag the slider between the pictures.
Is This Still a Photo?
An edited photo doesn't really have any documentary value. This picture basically lies about how my trip went. But sometimes in life you just want to create a pretty picture instead of capturing reality.
In many cases I use this approach with two pictures of the same sky, where I shoot a light and a dark version, and then join them together for a final result. In some cases this is more natural and personal than doing an "automatic join" via HDR.
I personally prefer blending in a second picture of the same sky, because it still contains the essence of the first picture. In any case, just keep in mind that this kind of edit, useful though it is, pulls you away from photography towards the graphic arts.
Does your sky need some enhancement? Download Zoner Photo Studio, use it free for 30 days for your photo edits. If you have any questions, ask our support at support@zoner.com.