Zoner Photo Studio 18: Perfect Pics In Just a Few Clicks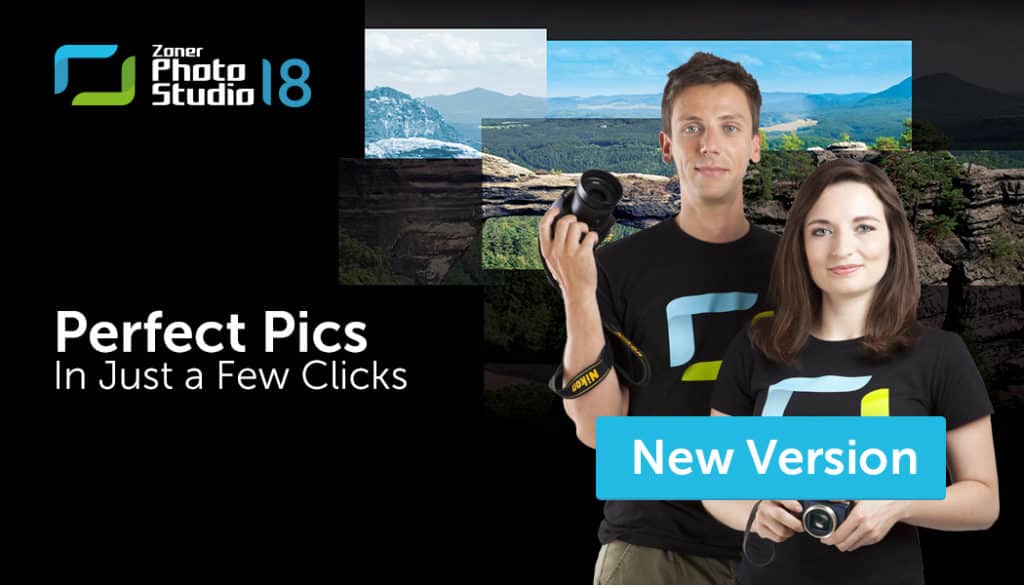 A new version of Zoner Photo Studio has been released, and we have no doubts that it will catch your eye right at first sight. Both with its modern design, and with its new perks that will be appreciated by every photographer, from beginner to pro. Zoner Photo Studio 18 looks and performs better than ever. You'll be sorting, editing, and sharing your pictures in a flash.
One Program for Every Photo Task
Zoner Photo Studio 18 provides an easy-to-understand path through the whole photo workflow—from downloading off a camera, to RAW development and JPG editing, to sharing photos with the world.
New Simpler Look, New Simpler Work
And it's not just the look. Version 18 has a lovely clear layout, and everything now works the same throughout the program.
Zoner Photo Studio 18 looks different from the moment you see it. And it's our hope that you'll also know how to use it from the moment you see it. It has three main sections: Manager, Develop, and Editor. Use Manager to organize and find photos. Use Develop for non-destructive basic photo edits. And use Editor for advanced edits.
All three sections have the same basic layout: on the left, a Navigator for easy photo browsing, and on the right, a panel with editing tools and their controls… And in the middle, the most important thing—your photos.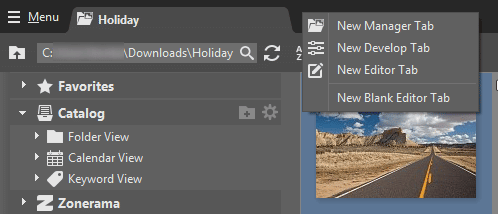 The tabs behave the same as in a Web browser. You can go through your whole photo workflow in a single tab. But you can also open a section of the program in a new tab by, for example, Ctrl+clicking that section's button.
Tip: To reach the program preferences, press Ctrl+M or click your email address at the top.
The Improved Catalog: The Heart of ZPS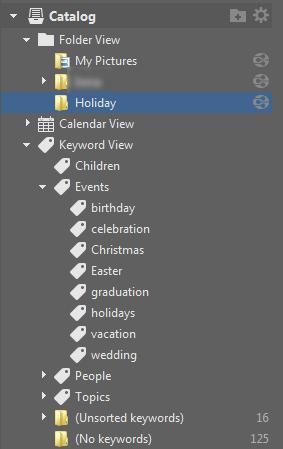 The Catalog is an essential tool for easily organizing and finding your photos. Use it to browse your photographs by folder, by the date they were taken, or—newly in version 18—by keywords. The keywords tree shows the keywords used by your cataloged pictures. You can drag and drop keywords from here onto your pictures.
Is your collection on a removable disk? No problem. The Catalog will show previews for your pictures even when the disk is disconnected.
If you love GPS-enhanced photography, then you'll love the new function for automatically filling in a picture's location text fields based on its GPS coordinates. With that filled in… if you ever need to find all your pictures from the Eiffel Tower or from Chicago? They're just a quick text search away.
Tip: Press Ctrl+F to quickly get started searching. While you type, the search box auto-suggests appropriate words and phrases in your file and folder names, keywords, and geographical locations.
A Standalone Viewer
The Viewer has now set off on its own. Double-clicking a picture in a format associated with Zoner Photo Studio while working in Windows now opens the picture in a standalone Viewer. That means a quick start, no distractions, and easy access to fullscreen… while still leaving the full power of ZPS just one click away.
Tip: Use Settings > Preferences > Integration to make the Editor or Develop appear in this case instead of the Viewer.
Non-destructive Edits and the New Develop Section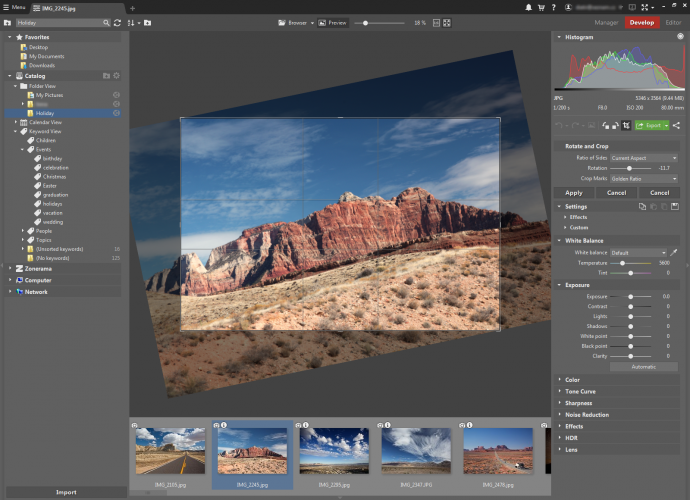 The new Develop section, which replaces the RAW section from earlier versions, offers non-destructive editing for pictures in both RAW and other formats, including JPG. Your edits here are not saved to your picture files. Thanks to that, your photos do not suffer repeated lossy compression, and so they remain at full quality. Click Export when you're ready to share a photo or to work with it in other software. Clicking Export writes your changes to a photo file.
The Develop section includes a live preview with easy zooming and the same controls as the Manager. This especially benefits the Crop tool—work with it is now more convenient than ever.
The development settings are grouped more logically now, and exposure edits now give better results. You'll definitely appreciate the built-in Effects, which also serve as an illustration of how different slider settings affect your pictures. You can save all your edits and apply them to other photos.
Tip 1: Save time when exporting pictures—use our pre-made settings for the most common export needs.
Tip 2: When shooting to RAW, don't forget to install the DNG Converter for better work with your pictures
Convenient and Fast Sharing from Everywhere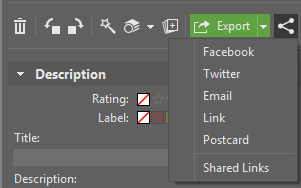 The same button for sharing photographs is offered throughout the program. You can share photos on Facebook/Twitter/Zonerama or by email—and email sharing is more convenient than before. The new emailer uploads your files and folders to a hidden album on Zonerama, and sends the recipient a link for downloading them. That way you can be sure that your photos will always arrive.
The photos are uploaded to the album while you work, and the email recipient just receives a link to open the album.
It's equally easy to share on Facebook or Twitter or to send real paper postcards from inside ZPS via our Zoner Postcards service.
Tip: Look under "Shared Links" to see if your recipient has already viewed and/or downloaded your photos. Use it to delete uploaded photos as well.
Turn Your Photos into Videos

In ZPS 18, you can turn your photos into Full HD video slideshows and spice them up with music and transition effects. Click Video in the Manager's Create menu to start the video creator, which then opens up in a new tab.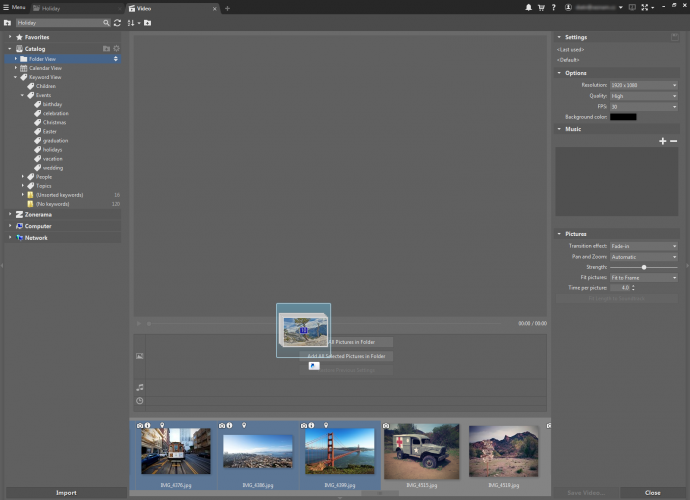 Move the pictures around in the timeline however you need, then show off the final MP4 video to your family however you want—maybe on your television.
Of course there are also countless minor perks in version 18 too, like the improved Oil Paint effect and full support for 4K monitors and high-DPI displays. And naturally, Zoner Photo Studio 18 is officially Windows 10 certified.
For a quick look at the biggest changes, see our video:
Check out Zoner Photo Studio 18 for 7 days for free and let us know how you like it.
And if you run into trouble? Just write us at support@zoner.com and we'll be glad to get you going again.