Zonerama, Made to Order: How to Customize Your Zonerama Profile, Filmstrip, and Albums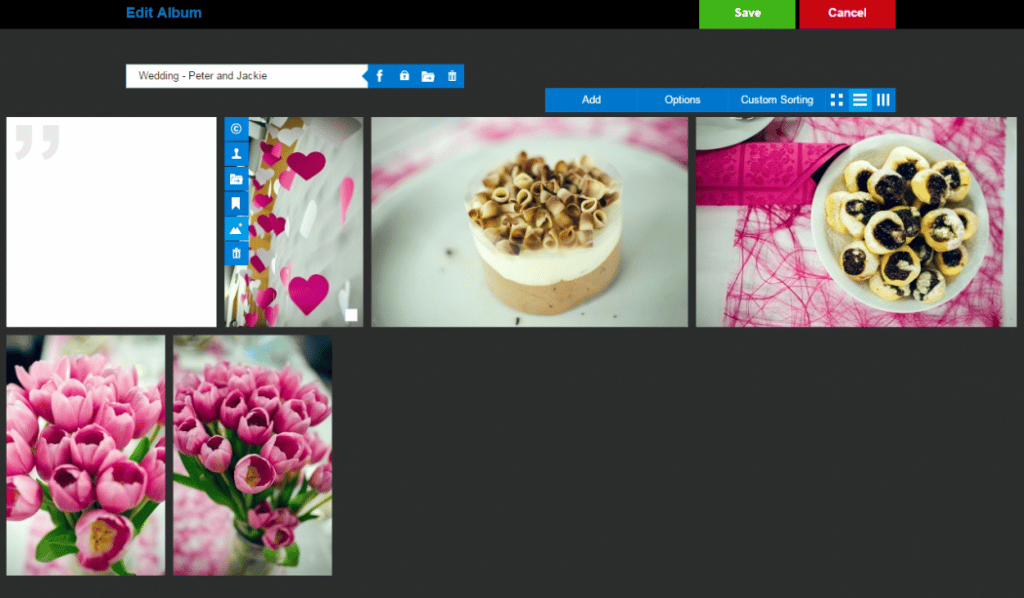 Zonerama galleries offer lots of ways for you to fine-tune them so they serve you well and fit you perfectly. So in this article, we'll be taking a look at how you can customize your profile and your albums.
Several articles about Zonerama have already come out here on Zonerama Magazine. We've taken a look at how to create a new photo gallery and upload photos to it. And in another article we've described how to upload photos in comfort straight from Zoner Photo Studio and how to share your photos. In this article we'll take a look at how to edit your profile and your albums.
Changing Your Profile Photo, Address, and Gallery Name
Do you know that you can change your profile photo and add some short information about yourself? To do that, go to your profile's My Photos page and click the pencil icon at the top right—that is, click Edit Profile.
Then at the top left, click your avatar—the gray picture of a portrait—and choose Upload. This shows a browsing window. Use it to browse to the profile photo that you want. Choose the photo and then click the Open button. This sets your public profile photo.
You can also use the white boxes on the right of the profile photo to edit your gallery's name and address (its URL).
Under your profile photo, you can enter a text about yourself, or your contact details. Just type it into the white box. Then save these changes by clicking the green Save button at the top right.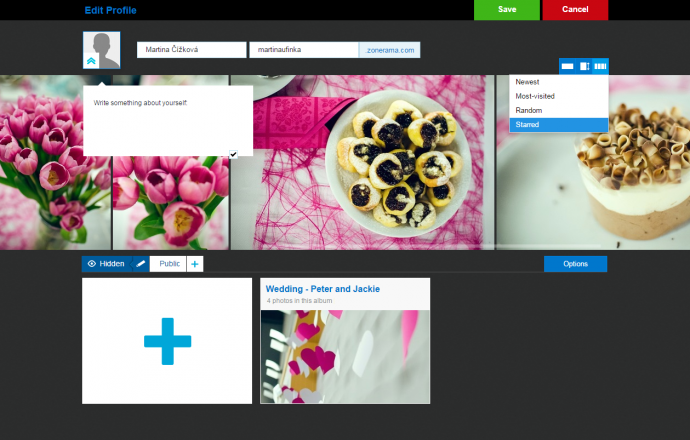 Customize Your Slideshow
When visitors arrive at your gallery, they see a slideshow at the top. It's a major part of your gallery's personality. Did you know that you can customize it, too? To do so, use the three blue buttons towards the top right of the Edit Profile page.
Use the first button to replace the whole slideshow with a single photo of your choice.
Use the second button to switch between a large and a small slideshow height.
Use the third button to choose what kinds of photos the slideshow shows.
The options are:
the newest photos
the most-visited photos
a random sample of photos
"starred" photos (more on that below).
In every case, only photos in albums that are public and non-password-protected albums are shown. You don't need to worry that photos from your hidden or password-protected albums will appear here. If you have all of your Zonerama photos in hidden or password-protected albums, then this cover slideshow does not appear at all.
To confirm all your changes, click the green Save button at the top.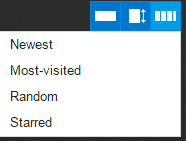 Highlight Your Best Photos
You may want to include only your best photos in your cover slideshow. But how can you do that?
Start by ensuring that the slideshow uses your "starred" photos, as described above. To add a star to a photo, first visit the album that contains it, and then click the pencil icon to switch into album editing mode. Then run the mouse over the photo in question and click the fourth icon from the top—the bookmark icon. Click the Save button at the top right, and the photo becomes a starred photo.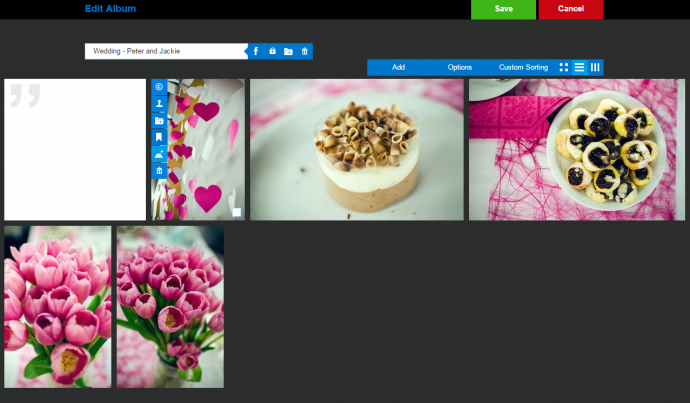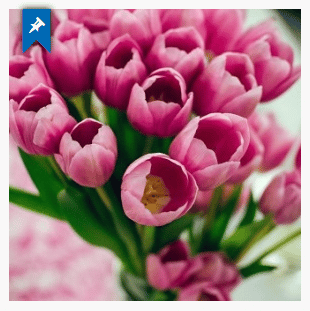 How Can You Edit or Share Albums?
Just like your profile, your albums, too, can be customized.
On the Zonerama webpage, click My Photos and then click the pencil icon at the top right. Use the Edit Album page (see the picture above).
You can always rename an album at the top left. If you have already sent someone a link to that album, you don't need to worry that they won't be able to open it. The link to the album doesn't change.
Sharing
To the right of the album's name, there are four blue icons. One, with an "f", lets you synchronize an album with Facebook. Connect your account with Facebook, and then you can display your album as a post on your Facebook profile. If you add photos to the album later, they are automatically added to Facebook as well. If you delete photos from the album, they are also deleted from Facebook.
Protecting and Locking Albums
The next icon, the second one, shows a lock. Use it to protect an album with a password of your choice. Then only persons who know that password can view the album's contents. The album itself remains visible as long as it's in a public folder, which can be to your advantage. Your friends can find the album on your profile, without your needing to send them a link as in the case of hidden albums.
Moving Albums
Use the third icon, the one showing a folder, to move the album. Use it for cases like moving an album from a public folder to a private one, or moving an album from a vaguely-named category (folder) to a better-named one.
Deleting Albums
Use the fourth icon, the one with the trash can, to delete the whole album.
After making changes, you must confirm them by clicking the green Save button at the top right.

Changing an Album Cover
For ease of navigation, each album displays as a picture with one main photo and four smaller photos—the next ones in the order. You can change the main photo shown. On the Edit Album editing page (see the picture above), run the mouse over your photo of choice, and then click the fifth icon from the top. To confirm your selection, click the green Save button.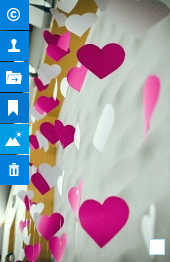 How to Display and Sort Photos in an Album
When you return to the Edit Album page, you'll also find here other options for improving how your album looks. Click Add to add a text description to an album. To automatically sort albums in various ways, use the Options button.
To manually set the order of the album's photos instead, use Manual Sorting. That displays your photos as small square thumbnails. You can then drag and drop photos as desired. The blue box with the quote marks represents the album description. If you have already added that description, then it was placed at the beginning of the album, but you can move it to another place.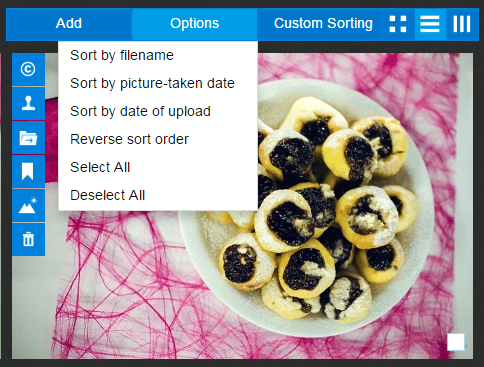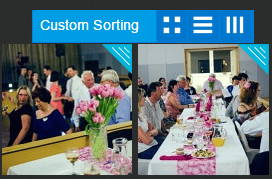 Use the three icons to the right of the Manual Sorting option to set how thumbnails are displayed. The first one sets square thumbnails, the next one sets thumbnails by width, and the third sets thumbnails by height. Try them all and decide which one fits your album the best.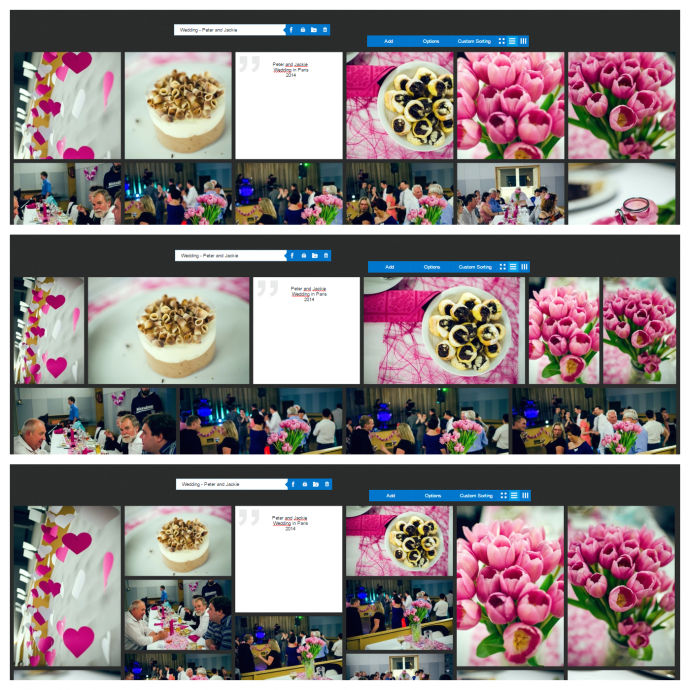 How to Manage Your Albums
Zonerama albums are normally divided into two folders, named Public Albums and Hidden Albums. But to keep your albums better-organized, you can rename these folders, and add more as well. To do that, go to the main page of your Zonerama and then visit My Photos. Then at the top right, click the pencil icon—Edit Profile.
Then add a new folder by clicking the "plus" button on the same row as the "Hidden Albums" and "Public Albums" folders. Just as an example, you might want folders by category, such as Portraits, Trips, Flowers, etc. Some people, for example, use folders to divide photos into private albums and customer albums; some use them to divide albums by year. It's up to you what kind of division of your albums is the most practical for you. In our experience, however, you should try to keep the number of folders low.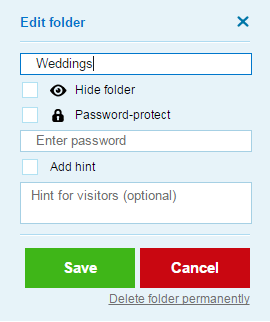 Click a folder's name and then click the pencil icon next to its name to edit that folder's name and/or its visibility (the Hide Folder option) or password-protect the folder (the Password-protect option).
You don't need to leave Zonerama's default names for these albums (Hidden Albums and Public Albums). You can rename them however you like. If a whole folder is hidden, then all the albums inside it are hidden too. Likewise password-protecting a folder password-protects all the photos inside it as well.
Sorting Albums
Just as you can re-order the photos inside an album, you can re-order albums to suit your taste. This can be useful for example when you want to have your most popular albums listed first instead of the newest albums, or avoid having the list start with your password-protected albums.
Click the pencil icon to open the Edit Profile page, and then click the folder that you want to organize. Then use the mouse to drag and drop albums, to put them in the order you want. Or use the automatic sorting: click the blue Options button at the bottom right of the page. You can for example sort by date of creation or by album name. Here are always, use the Save button to save the changes.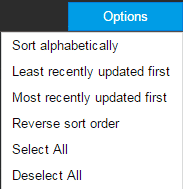 A Cleaner Gallery for You and Your Friends
So as you can see, you can customize your Zonerama and how it looks in order to make it easier to navigate both for you and for visitors browsing your Zonerama profile and viewing your albums.
If you need advice with anything else or you have further questions, don't hesitate to write us at support@zoner.com.