A Quick Guide to Photo Wall Art
There are some photos that deserve to come out of the computer and onto your wall. When it's time to turn your pixels into prints, don't just stick with the conventional paper options. Consider turning your photo into wall art.
What's That?
There's no hard-and-fast definition for what constitutes a piece of photographic wall art but generally it entails printing a photo onto unique material, such as canvas, glass, mirror, acrylic, aluminum, or bamboo. In general, these prints are large in size (upwards of 20-inches wide or larger) and are meant to be hung on the mantle or prominently displayed on a wall.
Why Would I Want That?
Well, for one, it looks unique. Slapping a photo into a frame and a frame onto a wall is well-honored tradition – and we have nothing against it – but sometimes it's nice to do things differently. Whether you're passionate about your photography or passionate about a particular picture (say of your family at their happiest), turning your photo into a piece of wall art delivers dramatic pop to any room. Depending on the material you choose, you can achieve a range of styles to suit your temperament: from a refined print on canvas to a sparkling, ultra-modern print on metal. Also, wall art makes for a great gift.
What Do I Need?
Two things. First, you'll need a high-resolution digital photo, the higher resolution (i.e. the larger the file size) the better. The services that produce wall art can tell you if your photo file is large enough to make a good print, so don't worry if you're not sure about the resolution of your photograph. That's not to say smartphone shooters are out of luck — you can still make wall art from Instagrams and photos taken with your smartphone, they just may not be as big as those taken with a traditional camera or d-SLR.
Second, you'll need a spot to hang it. Sounds obvious, but you'll need to put a bit of thought into this as you don't want to expose your piece of art to direct sunlight for prolonged periods of time or it will fade. In general, wall art will resist fading longer than a plain old photo print, but given the investment it's better to minimize the amount of sun-bathing it does.
There is an exception to this, however, and that's photos printed onto glass. In this case, you may want to have light pass through it to provide a kind of natural back-lighting effect. Photos on glass can be framed and hung on a wall of course, but smaller sized photos can be mounted in a stand on a counter or mantle to let the light pass through. These smaller glass prints are less expensive, so even if some fading does occur, it's not a huge expense to replace them over time.
While the sun does pose fading concerns (as it does for any photo print) many wall art materials are far more robust than photo paper. Metal prints tend to be scratch and water resistant, so they can be hung in places (like bathrooms) with high humidity or within reach of pawing hands.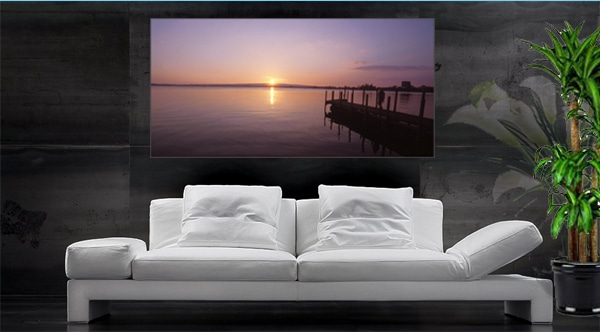 What Materials Can I Print To?
The short answer is almost anything you can imagine. Some of the more exotic surfaces include aluminum, glass, acrylic, and mirrors. You can also print to tapestries, Kirei boards, even wallpaper!
One thing to keep in mind when evaluating your choices is the difference between printing and mounting. Some printers will produce a photo print on paper and then mount, or adhere, that print to a surface like bamboo. They may call it a "bamboo print" but it's really a photo print stuck on a bamboo surface. Mounted prints can look very attractive, but they look more like traditional photo prints and don't have the unique characteristics of photos printed directly to a surface.
Anything to Keep in Mind When I Order?
There are two important factors to research in advance of choosing a wall art provider. First, is whether there is a warranty or some form of guarantee attached to the product: either against fading or damage. Photo wall art can be quite expensive and it's nice to know your provider will stand behind their work. The second thing to verify is whether it will arrive fully assembled and ready to hang, or whether you'll have to do any work. Most services will deliver wall prints that are ready-to-hang, but it's best to ensure you know what the final product looks like so you're not stuck trying to frame a huge piece of aluminum.
(Top image: Canvaspop)