Want to Back up Your Photos to the Cloud? You Can Do It in Just a Few Clicks
Every photographer backs up their photos somehow. There are several possibilities here—on an external disk stored in a separate place, on a home NAS server, or maybe on the cloud. The last of these options is becoming more and more popular. You have your photos safe even if there's a burglary or your equipment fails.
While you can redownload or reinstall your software, movies, and music, you generally won't find your old photos anywhere else. That's precisely what makes photo backups so important. All the more so since growing camera resolutions mean ever-bigger files.
That means you need to find more space for photo backups. Hard disks are fine, but sometimes they fill up, and sometimes their lives wind down. And losing several years' worth of backups is very unpleasant.
Fortunately there's a more reliable solution—cloud storage.
How Does the Cloud Work?
The cloud is an ingenious backup method that essentially lets you store an unlimited number of files. And meanwhile they don't even have to fit on your computer.
It basically works like a warehouse that you send your files to. And then you pick them back up when you need them. Meanwhile, unlike with a physical warehouse, you can do this basically whenever you'd like. And all you need for it is an internet connection.
Handle Backups Elegantly
So that your cloud backups can be as simple as possible, we've created a cloud you can reach straight from inside Zoner Photo Studio X. Just use the Zoner Photo Cloud item. You'll find it in the Catalog section of the left panel.
Before you use this option for the first time, you'll see a crossed-out cloud icon next to it. Click it to activate Zoner Photo Cloud.
This first shows a window with brief information on ZPC. Just read the information here and confirm the Terms and Conditions, and you can get started with your backups.
Immediately after you create your Zoner Photo Cloud, you'll see two folders:
My Cloud

and

Recycle Bin

.
Not Just for Photos
Naturally you can create new folders here, rename them, and add any number of subfolders. Just right-click on a folder and choose the option you want. So if for example you previously used the Zonerama online gallery for backups, you'll no longer be bound by its limited two-level folder structure.
Meanwhile you can use Zoner Photo Cloud not only for backing up your JPG photos, but also for backups of RAWs, PDFs, text documents, videos, and in fact any files at all. Just mark the folder you want in Zoner Photo Studio's Browser and drag it into Zoner Photo Cloud. Photos uploaded to the cloud then have a small cloud icon in their thumbnails.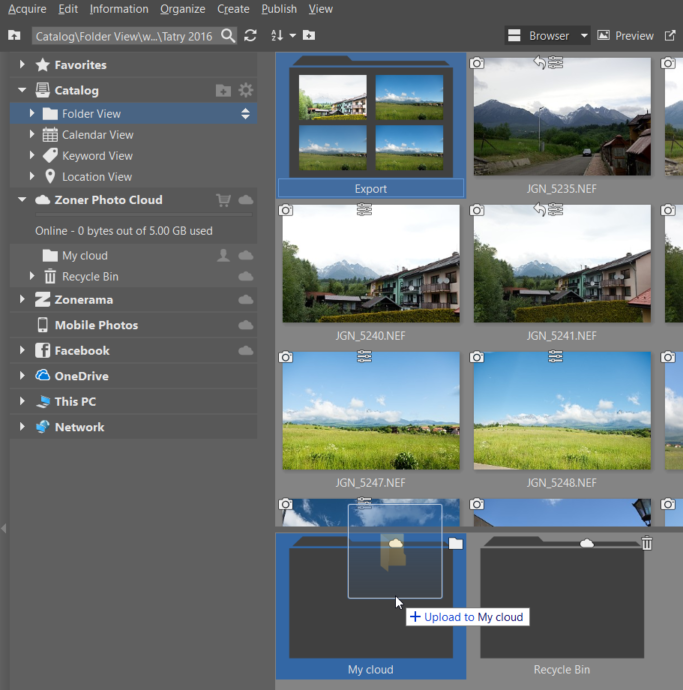 Share Content with Other Users
One advantage of Zoner Photo Cloud is that you can share your cloud folders with other Zoner Photo Studio X users. To configure a specific folder's sharing, click the "person" icon next to the folder's name in the left panel. This comes in handy for example when you're sharing family photos or shots from various events.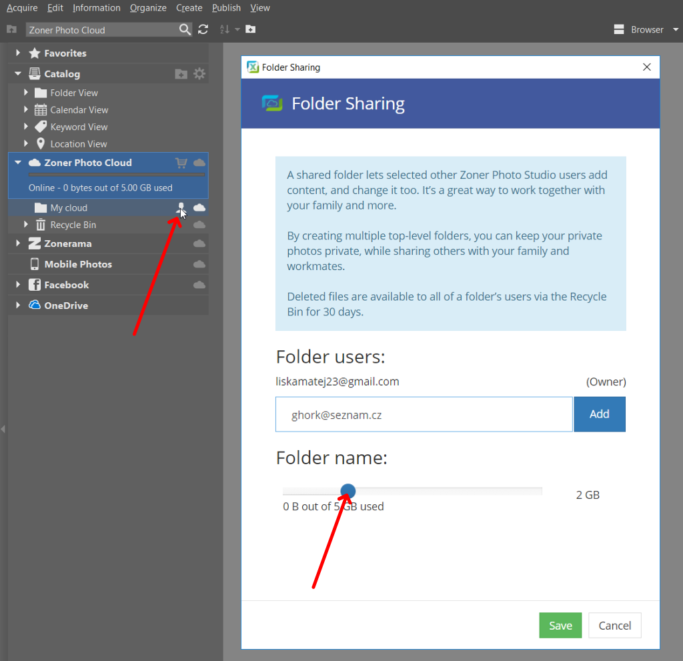 The folder's users can then view its photos—and also add new photos. So don't forget to set a folder's maximum size when you share it. That way you can be sure that it won't take up all of your cloud storage.
You Can Edit Even Photos That Aren't on Your Computer
Zoner Photo Cloud offers one large advantage over typical cloud backups. You can directly edit even your cloud photos in Zoner Photo Studio X. Without the need to download them. And that also goes for the users you're sharing a folder with.
Just keep in mind that the speed of your work will depend on your internet speed. But if it's fast enough, you won't even notice that you're not working with pictures stored right on your computer.  Meanwhile you'll have access to every ZPS editing function except the Batch Filter.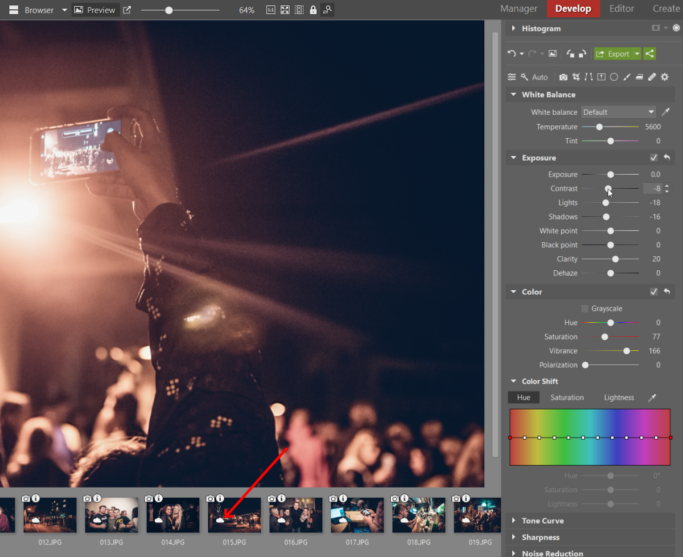 Zoner Photo Cloud also offers yet another large advantage over typical cloud backups. While for some services you have to make an advance request to download your data, in Zoner Photo Cloud you have access to it whenever you want. So you can even edit your photos at midnight.
Grow Your Cloud
You can adjust the size of your cloud storage at any time. Every Zoner Photo Studio X user automatically gets 20 GB for free. This lets you easily back up, say, the photos that you're editing at the moment.
To purchase further space, click the shopping-cart icon by the Zoner Photo Cloud item. You have a number of options available, up to 1 TB for 20 dollars a month. And if you need even more space, just request an individual plan.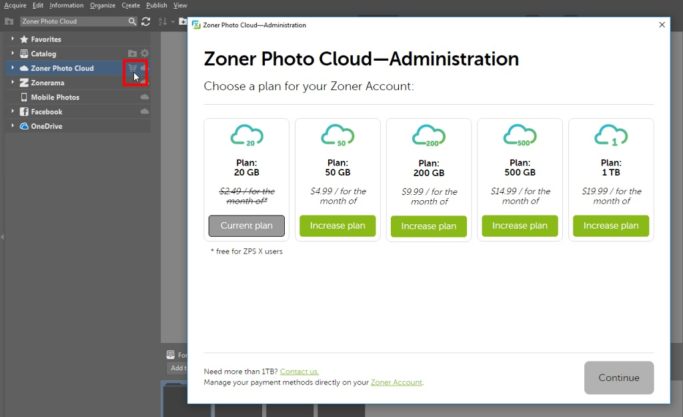 The Future of Storage Is in the Cloud
Our photo collections aren't getting any smaller, and our disks keep getting older. That's one reason why the cloud is the best photo backup solution for the future. You have the data you need stored safely, and yet it's still available 24 hours a day.